Upcoming Events
«Prev
From Mar 25, '19 to Apr 24, '19
Next»
5851
Screening of Ek Ruka Hua Faisla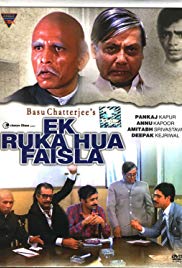 Tue Mar 26, 6:30 PM
Hyderabad Cinephiles
Adaptation of 12 Angry Men, Ek Ruka Hua Faisla is a courtroom drama by Basu Chatterjee where the fate of a poor teenage boy charged with murder rests with a jury. The film quite successfully portrays the class and caste prejudices of all the jurists but one who argues in myriad ways against their prejudiced stances.
5908
Dr. Strangelove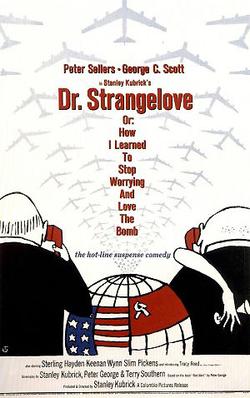 Wed Mar 27, 7:00 PM
Cinephiles Film Club
Dr. Strangelove or: How I Learned to Stop Worrying and Love the Bomb (1964)

An insane general triggers a path to nuclear holocaust that a War Room full of politicians and generals frantically tries to stop.

Director: Stanley Kubrick
Writers: Stanley Kubrick (screenplay), Terry Southern (screenplay)
Stars: Peter Sellers, George C. Scott, Sterling Hayden

Movies Intro : 7:00 PM
Movies Starts at 7:10 PM
Post-Screening Discussion - 15 mins
5924
Conflict and Peace in J&K
Thu Mar 28, 5:00 PM
#IWillGoOut Hyderabad Chapter
Tamana Slathia, Peacebuilder, Feminist and one of National Organisers of #IWillGoOut, comes to Hyderabad to share the stories and voices of the residents of Jammu and Kashmir. As a peacebuilder, she has her ears to the ground and in her talk, she dispels the myths propagated by the mainstream media and the popular narratives about J&K issues.
5822
White Rabbit Red Rabbit
Fri Mar 29, 8:00 PM
Ankit Bakshi
White Rabbit Red Rabbit performed by Vinay Varma

No rehearsals! No director! A different actor each performance, who receives the script on stage!

White Rabbit Red Rabbit is an internationally acclaimed, award-winning play by Iranian writer Nassim Soleimanpour. It is an audacious theatrical experiment and a potent reminder of the transgressive and transformative power of theatre.
5888
Write Club Saturday General #195
Sat Mar 30, 3:00 PM
Write Club Hyderabad
Write Club Hyderabad helps you pen your thoughts, spill your mind and finally make an appointment with the writer in your head. We conduct free, weekly events that foster writing. Our Meetups aim at helping writers reach their goals in a supportive, collaborative, social setting. Writing doesn't have to be all by oneself. We welcome anyone who writes, regardless of genre, language or age. We have members writing novels, short stories, poetry, screenplays, essays, school reports and more. What we do, basically: One of the members of Write Club (anyone with a participation count over 2 consecutive meetups) hosts a session. They bring forth a theme and writing exercises. We all then write to the host's prompts and guidelines for about an hour. Once we're done writing, we read out our write-ups (optional). We also exchange feedback and constructively critique each other's works. Entry is free, anyone with an interest in writing can walk in. Bring your writing devices and we're all set! We promise to provide you with good coffee and a super-creative conversation. We have Write Club sessions every Saturday afternoon – 3 to 6 PM
5914
Watercolor Painting demo
Sun Mar 31, 10:30 AM
Sohel sayyad
Come join us on a Demo and workshop on different techniques of water colour.
5883
Decoupage Workshop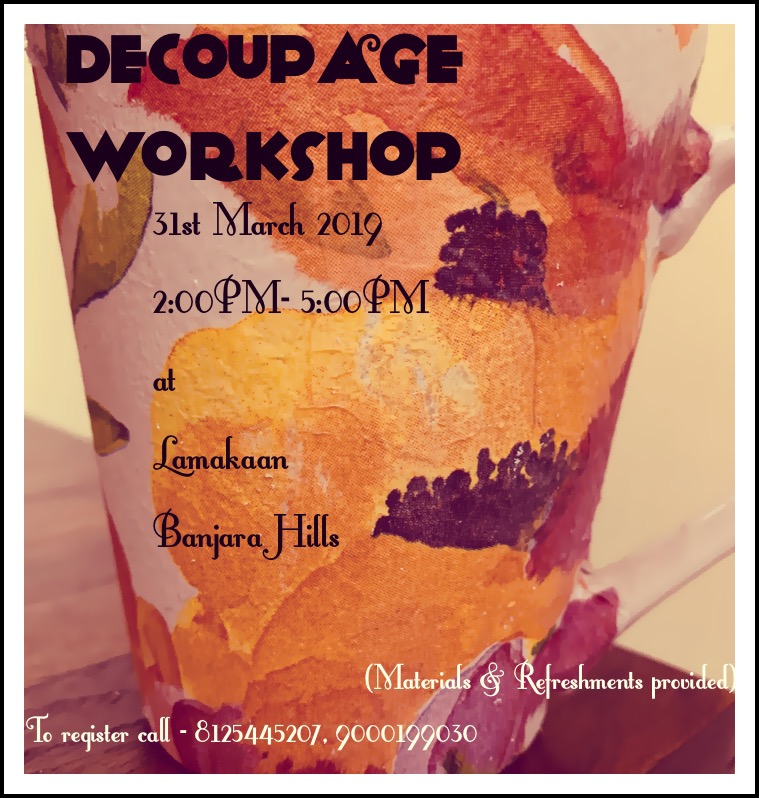 Sun Mar 31, 2:00 PM
Vishaka Agarwal
Decoupage is the art of decorating objects of different surfaces with paper . This workshop is a beginners guide to this form of art. Towards the end of the workshop the participants would be familiar with the process of decoupage using different kinds of paper and fabric .
5935
Dialogue on Elections
Sun Mar 31, 5:00 PM
Lamakaan & The Dialogues Assocation
Elections: The Saga of Broken Promises - A Dialogue

The elections in April will commence the 17th Loksabha elections in India. At this crucial juncture, every political party opens its box of schemes to lure the voters. If the bait of schemes did not create the sir that they expected, the latest trick up their wily sleeve is to spread propaganda, jumle baazi.

The history of 16th Loksabha elections has taught us that elections in India are just the never-ending saga of broken promises and of course costly affair too with crores of rupees are being pumped into publicity and promotions.

So as the lead participants of this high voltage political act let us all ask some important questions like:
What is that we should recall and assess before voting in these elections?

Does our vote matter?
Does NOTA bear any weight?

What should we learn from the broken promises?
Should we be voting for the MP or PM?
And many more such questions...

Do join us for a Dialogue on the biggest and largest exercise of Indian Democracy.
5904
Palette Knife Painting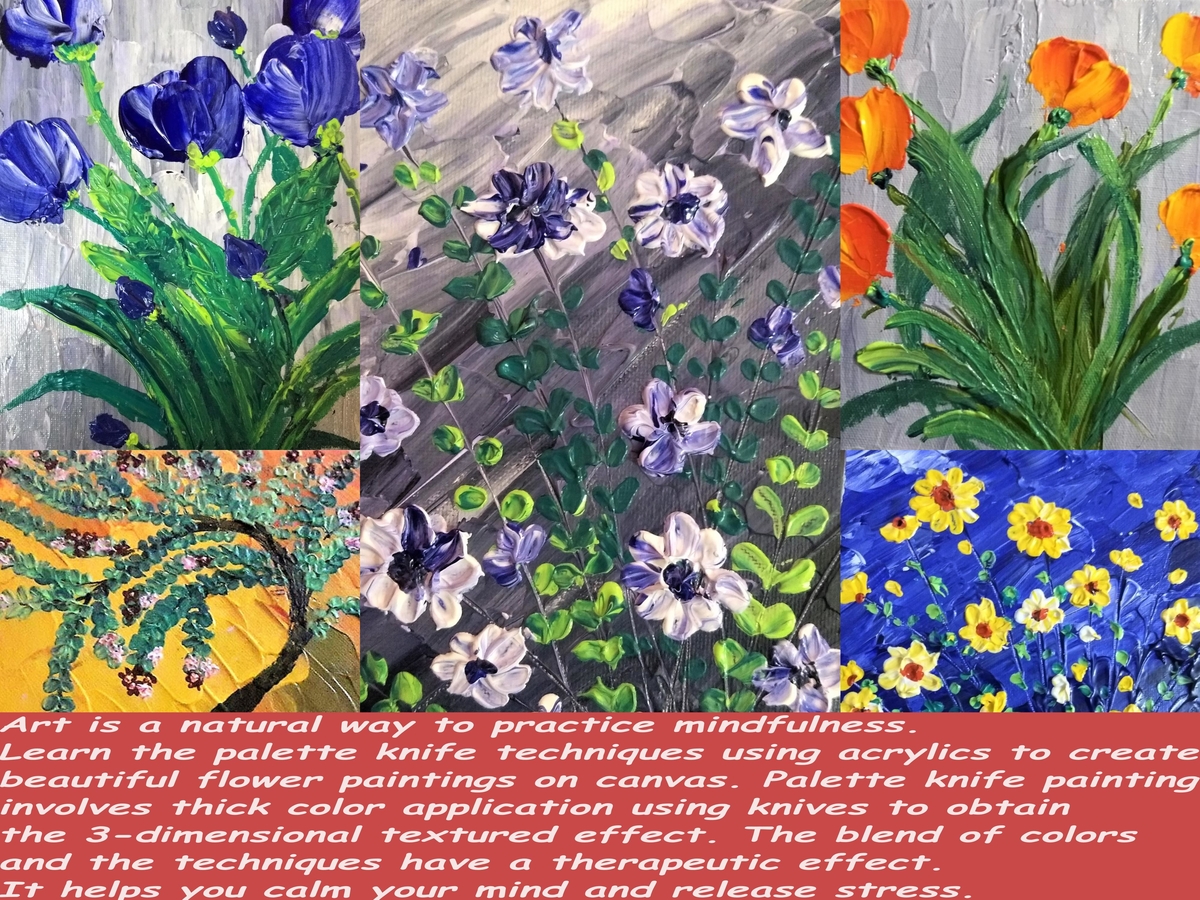 Sun Apr 7, 3:30 PM
Mamatha Sathola
Art is a natural way to practice mindfulness. Learn the palette knife techniques using acrylics to create a beautiful flower paintings on canvas.
Palette knife painting involves thick color application using knives to obtain the 3-dimensional textured effect. The blend of colors and the techniques have a therapeutic effect. It helps you calm your mind by mindfullness
5932
Howl Film Screening
Tue Apr 9, 7:30 PM
Lamakaan
Poet and cultural icon Allen Ginsberg (James Franco) is living in San Francisco in the mid-'50s with friends and fellow writers Jack Kerouac (Todd Rotondi) and Neal Cassady (Jon Prescott) when he conceives "Howl," a poem that is credited with popularizing the Beat movement. When bookstore owner Lawrence Ferlinghetti (Andrew Rogers) publishes the poem, he is put on trial for obscenity. The film includes animated portions depicting interpretations of the poem itself.

Duration: 90 minutes followed by Discussion

ALL ARE WELCOME.
5861
An evening of Drama
Thu Apr 18, 7:30 PM
Sowmya - Muse Musical School of Music and Drama
Children's Production from Muse Musical School of Music and Drama.