Upcoming Events
«Prev
From May 31, '20 to Jun 30, '20
Next»
6985
Bazm e Sukhn Urdu Meet up
Tue Jun 23, 9:00 PM
Lamakaan
Bazm e Sukhan is a weekly gathering of those interested in Urdu literature. A bunch of 20 odd people meet every Tuesday at 10 pm on Lamakaan online platform and discuss Urdu poetry and prose. Each session usually focuses on one poet, or writer or a particular aspect of the form, structure or grammar of Urdu writing.


Join us through the link.
Topic: Bazm
Time: 23 Jun, 2020 10:00 PM
Join Zoom Meeting
https://us02web.zoom.us/j/85227146685?pwd=VzVocHJhR0FJeElWZFVibUR5ZDFRQT09

Meeting ID: 852 2714 6685
Password: urdu



All are welcome!


6986
Drag Culture & Gender Phobia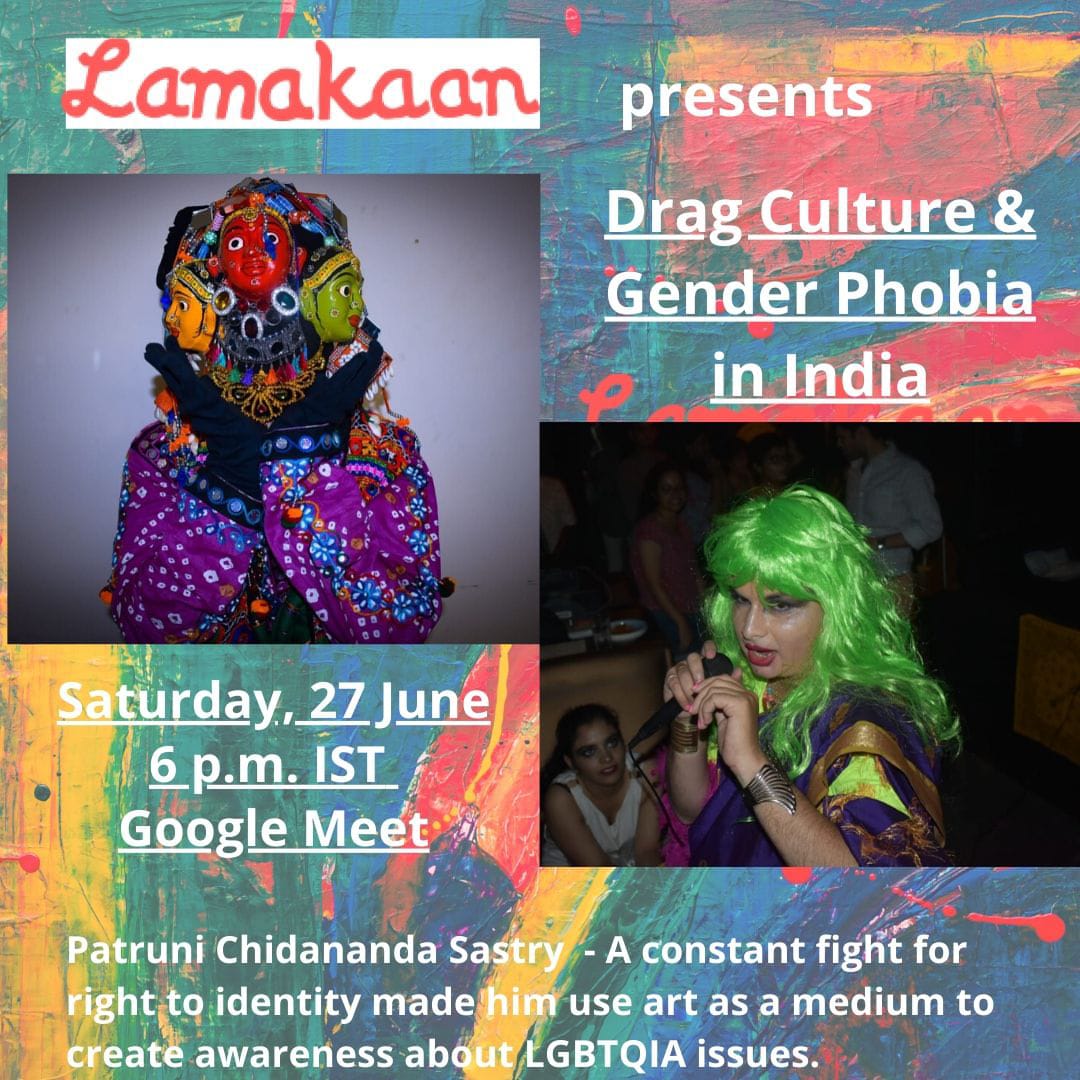 Sat Jun 27, 6:00 PM
Lamakaan
This is an ONLINE EVENT.

Please click the link to join the event.
https://meet.google.com/reu-uycs-uyc

Drag Culture & Gender Phobia in India - A Talk by Patruni Chidananda Sastry.


Patruni Chidananda Sastry is a expressionist dance, performance artist, art entrepreneur and Tranimal drag performer. He started dancing at the age of seven and his unique style called "Expressionism" is a new way to tell stories and raise awareness in the society. He believes in the concept of 'Gender Fluidity' and contributes his dance to many organizations like Mist, Namma Pride and the Humsafar Trust. He's been a human book at Human Library Hyderabad, a speaker at TEDx and Josh Talks. A constant fight for right to identity made him use art as a medium to create awareness about lgbtqia issues. He performs drag with the drag name "Suffocated Art Specimen " aka SAS where he bring cultures of indian drag and anti beauty traditions into one canvas.

ALL ARE WELCOME!