Upcoming Events
«Prev
From Apr 14, '20 to May 14, '20
Next»
6974
14 April Remembering Ambedkar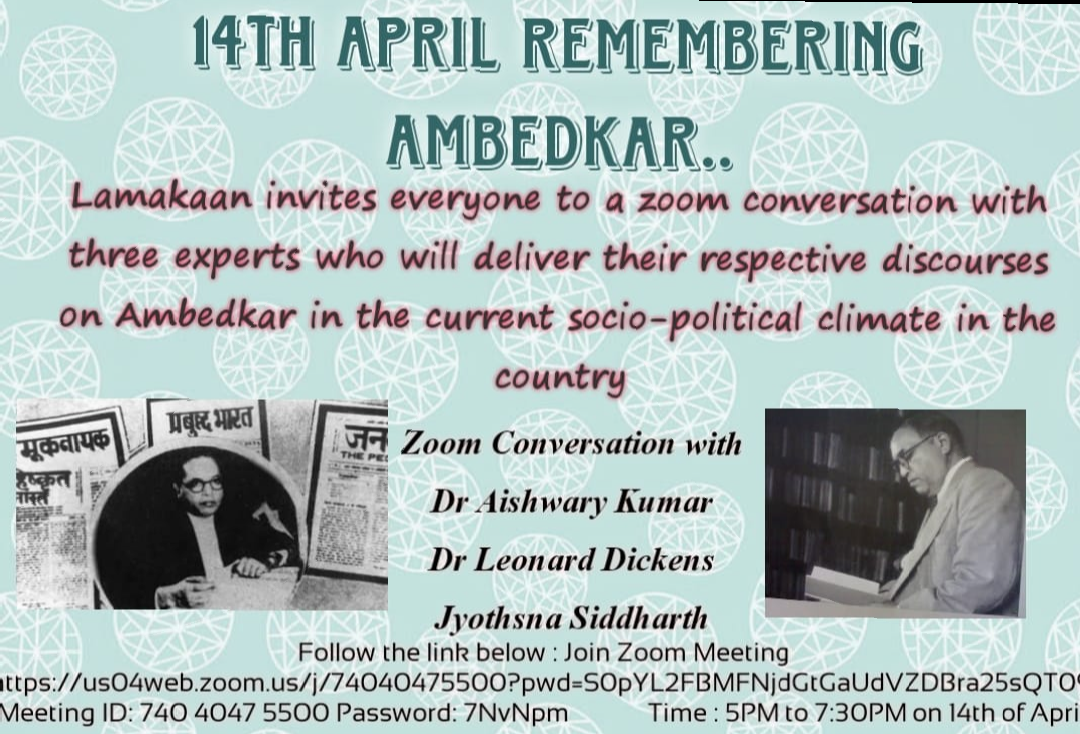 Tue Apr 14, 5:00 PM
Lamakaan Prog Council
Remembering Ambedkar:
It has been sixty four years since Bhimrao Ramji Ambedkar's demise. Considering our current socio-political society, where discrimination against marginalized groups is rampant, it becomes even more important to understand and grasp Ambedkar's ideas of equality and justice: the two values through which Ambedkar viewed democracy. Taking that into consideration, Lamakaan invites everybody to a zoom conversation with three experts who will deliver their respective discourses on Ambedkar and the current climate in the country.
The speakers are as follows:
1. Aishwary Kumar: Dr. Aishwary Kumar is a professor at University of California and an intellectual historian of the Global South. His work engages a wide spectrum of issues in moral and political philosophy, history of political thought and inequality, political freedom and justice, and global lineages of self-determination, citizenship, and rights.

Professor Kumar will be speaking on the notion of segregation/quarantine and how Ambedkar employs them in his arguments on democratic crises.

2. Leonard Dickens: Dr. Leonard Dickens is a professor at the Center for Comparative Literature at the University of Hyderabad. His research has focused heavily on Anti Caste thought and debate. He has published on anti-caste intellectual thought, print culture, and also on contemporary Tamil films in internationally renowned journals.
Professor Dickens will be discussing three critical moments in Ambedkar's journey.
3. Jyothsna Siddharth: Jyotsna Siddharth is an actor, anti-caste activist and writer based in Delhi. She is a founder of Project Anti-Caste, Love and Co-founder of Sive. She has conducted workshops with colleges in Delhi University on Questions of Social Identities in Romantic Relationships. She has a Masters in Development and Social Anthropology and a recipient of Chevening Scholarship (2014).

Ms. Siddharth will be speaking on Ambedkar's views on inter-caste marriages.

The zoom conversation will take place on the 14th of April from 5 pm to 7:30 pm.

Author Devika is inviting you to a scheduled Zoom meeting.

Topic: Understanding Ambedkar in the times of Corona
Time: Apr 14, 2020 05:00 PM India

Join Google Meet

https://meet.google.com/ari-ozdr-qbv


6972
Parenting Workshop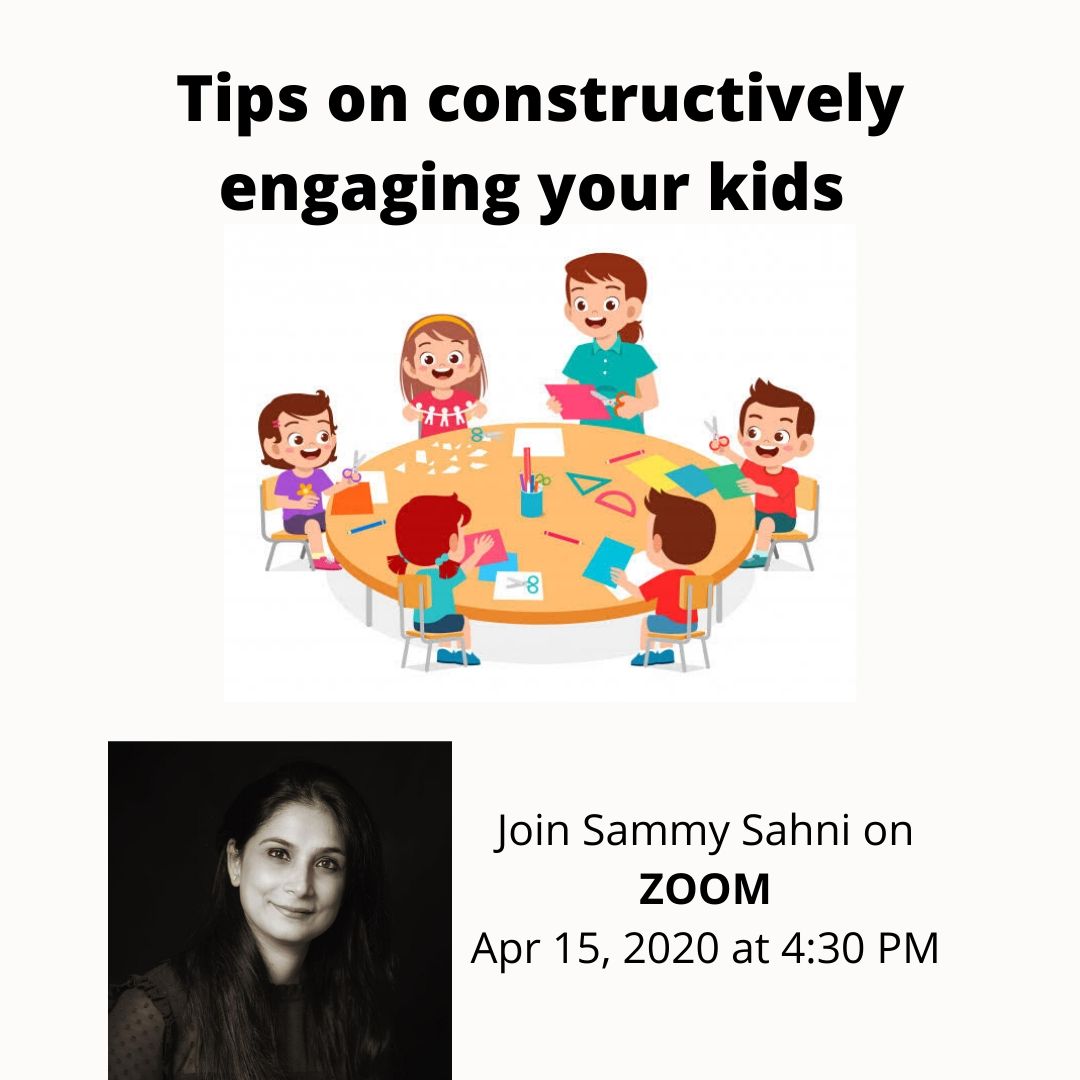 Wed Apr 15, 4:30 PM
Devika
Are you going crazy managing your kids during this lockdown? Sammy Sahni, founder, Social Dragonfly and Womenfolk of Hyderabad gives expert advice on how to constructively engage your kids during these tough times.


Date: 15 April 2020
Time: 04:30 PM(IST)

Join Zoom Meeting: https://us04web.zoom.us/j/75905860429

Meeting ID: 759 0586 0429
6975
Healthcare Reporting : Covid-19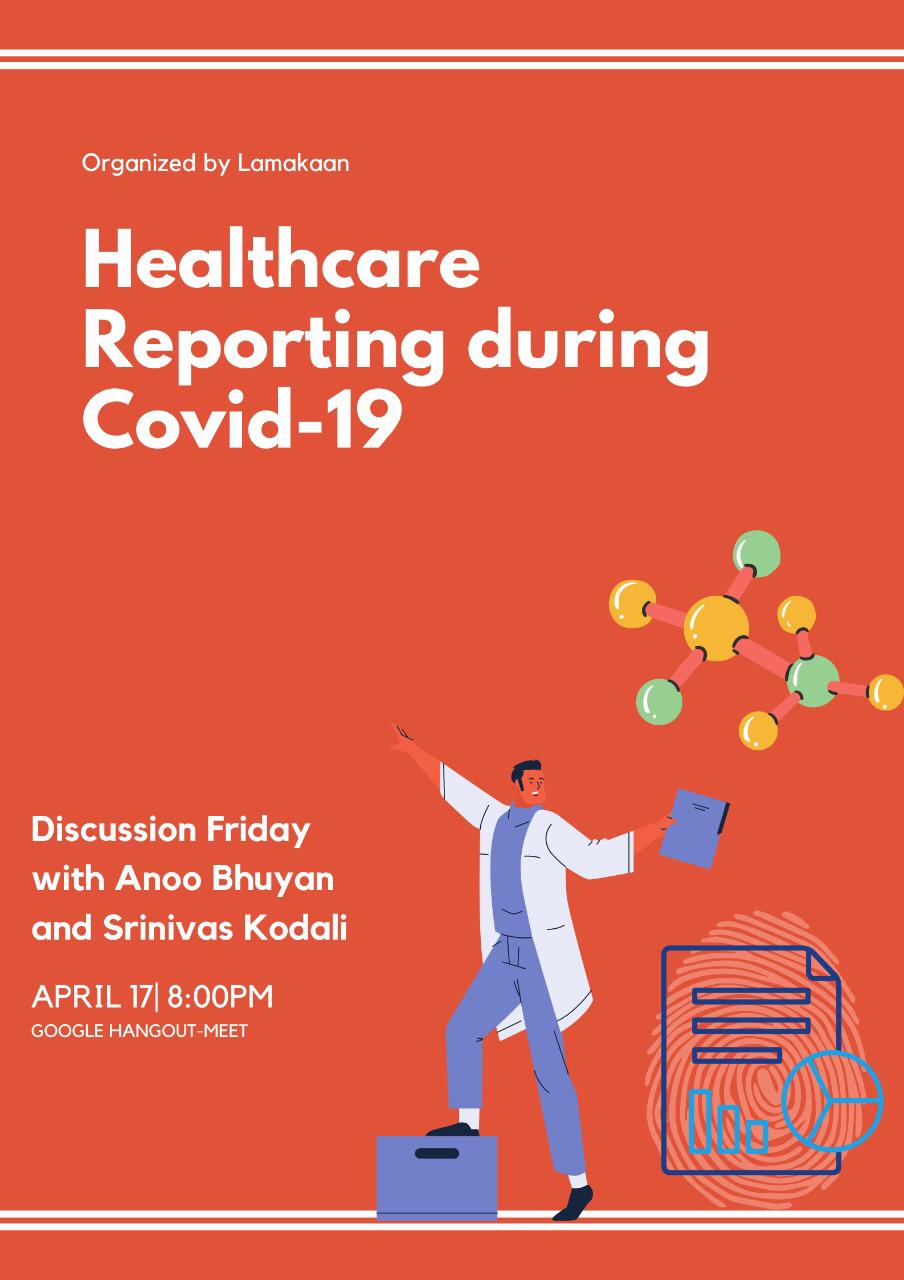 Fri Apr 17, 8:00 PM
Lamakaan Programme council
Anoo Bhuyan and Srinivas Kodali discuss healthcare reporting, data mystery, surveillance, misinformation and disinformation and all else. Join this interactive session and stay informed! Anoo Bhuyan is a healthcare reporter at IndiaSpend

Hangout meet link for tomorrow's event
https://meet.google.com/nzo-vvhm-ypw
6973
Parenting Tips by Shanti Swaroop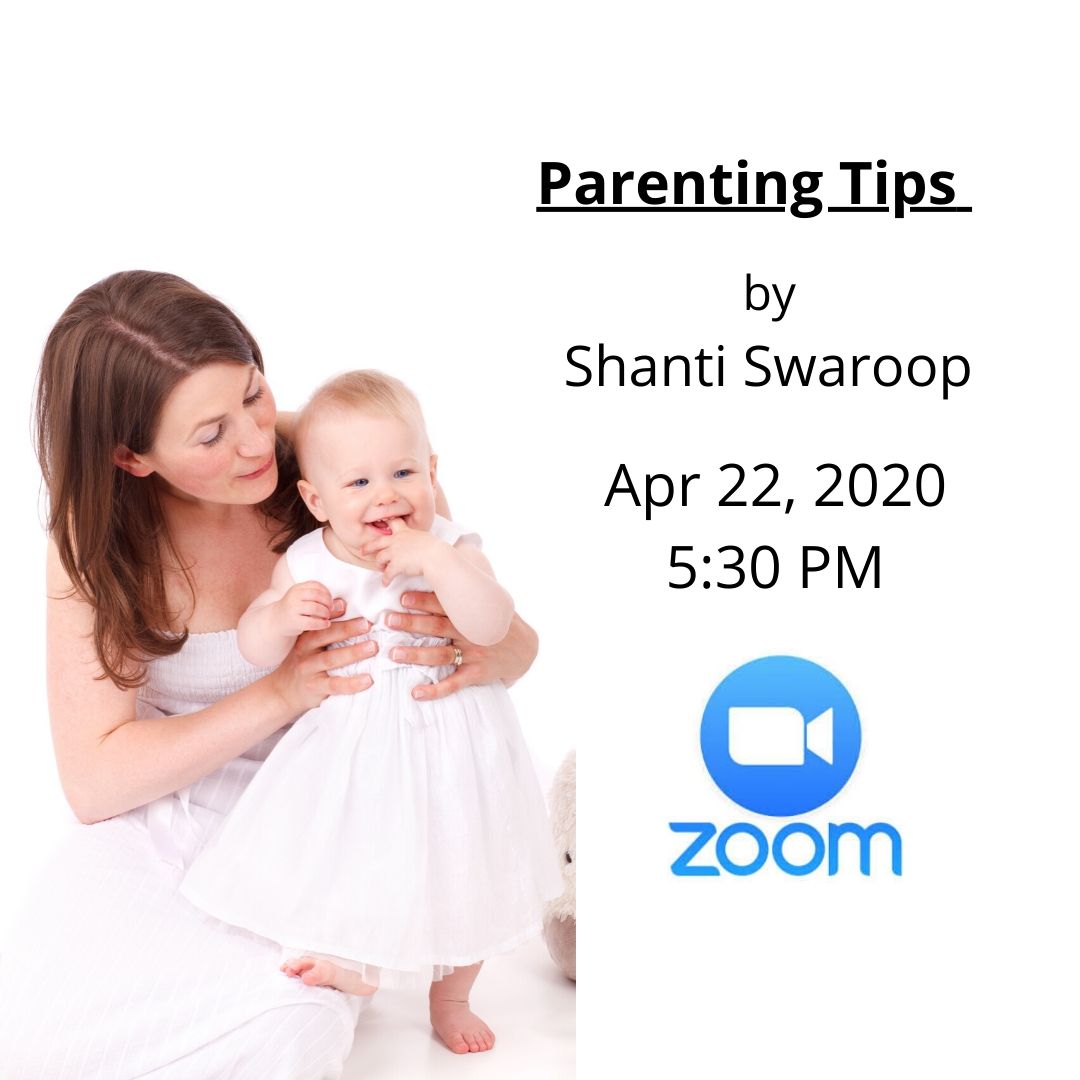 Wed Apr 22, 5:30 PM
Lamakaan Programme Council
A workshop on how to deal with your kids patiently and not yell on them. Shanti Swaroop will share parenting tools for mothers on how to manage children without yelling, blaming and shouting. Join the Zoom session on April 22, 2020 at 05:30 PM

The event details are as below.
Topic: Parenting Tips - Don't yell on your children
Time: Apr 22, 2020 05:30 PM India

Join Zoom Meeting
https://us04web.zoom.us/j/74421127233

Meeting ID: 744 2112 7233

Please feel free to contact me at 9971268729 in case of any queries.

6977
Kerala Fight : Corona pandemic
Sat May 2, 8:30 PM
Lamakaan Programme council
Lamakaan-an open cultural space has been organising variety of events for its audiences. Post lockdown, Lamakaan has decided to do some online events as well.

In coming days, we have planned a series of panel discussions pertaining to the Covid19 pandemic. The first of the series of panel discussion that we are planning to organise online will be held on 2nd of May at 8:30 PM. The topic of this panel discussion will be " Kerala : Fight with Corona pandemic "

Kerala was one of the early hubs of India's Covid19 crisis. As far back in Feb, Kerala Minister for Health ordered screening at all four of the States airports and a few days later the Chief Minister announced a lockdown -- one that was seemingly more effective than the national lockdown - in some part because it was more humane. How did Kerala fund the capacity to respond to an emergent pandemic even before the WHO had declared it as one. What marks the states health infrastructure that allowed for such agility? What about the interface between government, medical teams and citizens which allowed for such a response.

These and other important questions will be taken up by three doctors / scientists speaking in this panel. This online panel discussion will be co hosted by Lamakaan, Hyderabad and ICW, USA.

This panel discussion will be relayed through Google conference link. This event is for Hyderabad, National and International audience.

I would request you to join us on this panel discussion. After the discussion, speakers will take a few questions as well.

The four esteemed speakers for this event on 2nd May 2020 at 8:30PM are as follows :

Ekbal B, He chairs the epidemic response committee, and past president of the KSSP

Dr. Antony Kollannur 
Former Director, State Health Resource Centre, Chhattisgarh

Dr.Jayakrishnan, Prof of Community Medicine in Kozhikode Medical Collage.

Dr. Amar Fettle, State Nodal Officer for Covid-19.

The discussion will be moderated by:
Dr Saleema Razvi works with the Copenhagen Consensus Centre on economic evaluation of health interventions. She did her PhD from IIFT.


Joining info: Lamakaan FB live, Lamakaan YouTube live.



https://meet.google.com/cgd-btcb-peu

From : Lamakaan-An open cultural space, Hyderabad's