Upcoming Events
«Prev
From Aug 21, '19 to Sep 20, '19
Next»
6265
SciFi -The City of Lost Children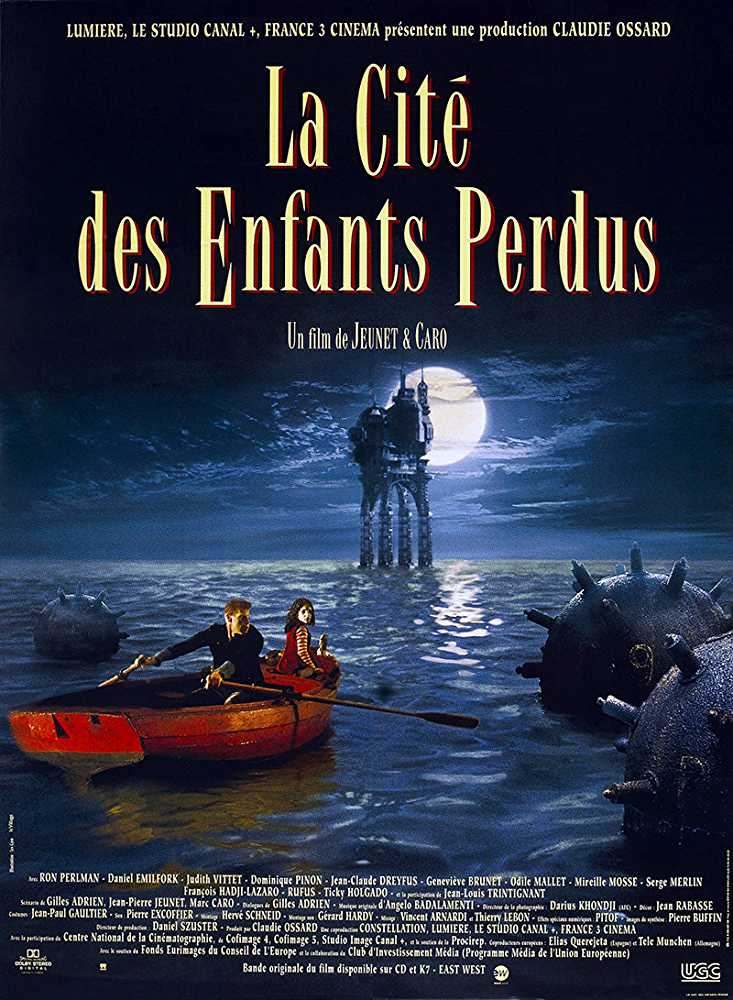 Wed Aug 21, 7:00 PM
Cinephiles Film Club
Sci-Fi Month - The City of Lost Children (1995)

A scientist in a surrealist society kidnaps children to steal their dreams, hoping that they slow his aging process.
Directors: Marc Caro, Jean-Pierre Jeunet
Writers: Gilles Adrien, Jean-Pierre Jeunet
Stars: Ron Perlman, Daniel Emilfork, Judith Vittet

Movies Intro : 7:00 PM
Movies Starts at 7:10 PM
Post-Screening Discussion - 15 mins
6247
One Mustard Seed
Thu Aug 22, 7:30 PM
Lamakaan
One Mustard Seed
41 mins

Why do we have such a contentious relationship with the idea of dying? What keeps us from looking at death, or the dying, in the eye; from making peace with the process?

The film wonders if the process of dying can become meaningful; and if embracing our own mortality might be the key to a more fulfilling life.

Filmmaker Bio:

Aparna Sanyal is a National Award winning filmmaker who has worked extensively on documentaries and TV shows as director and producer for both Indian and international television since 1999. She was awarded the Rajat Kamal at the National Film Awards in 2012, the Charles Wallace India Trust grant for research in the UK in 2015 and recognised as a Young Creative Entrepreneur by the British Council in 2010. She is the co-founder of 'The Red Door', an initiative on Mental Health.

Her previous films include 'Tedhi Lakeer - The Crooked Line' (2002), 'A Drop of Sunshine' (2011), 'A Land, Strangely Familiar' (2013), 'Shunyata - when Kathak met Cham' (2014), Shovana (2017), and The Monks who won the Grammy (2018).


6135
Kabaddi: The Game of Partition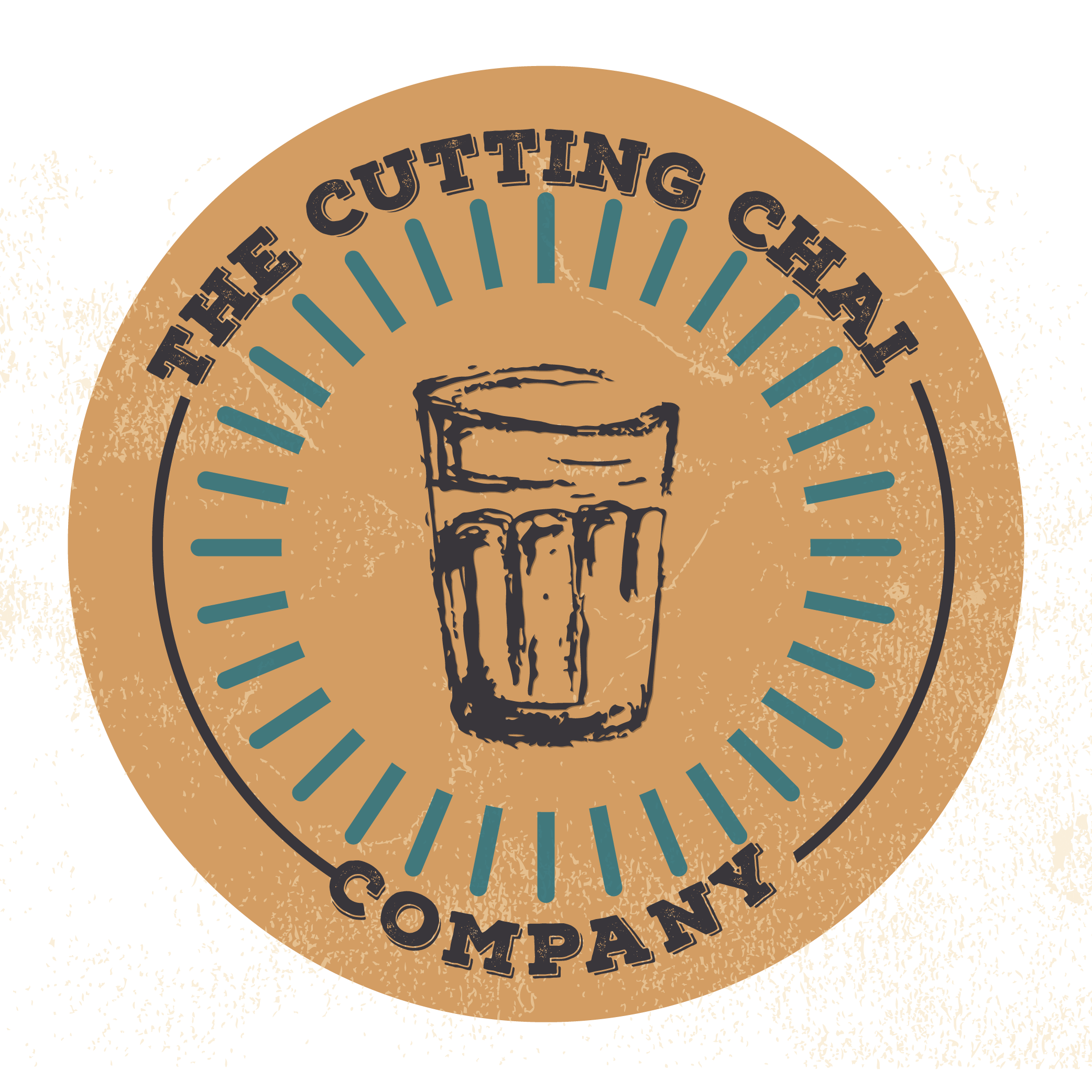 Fri Aug 23, 8:00 PM
The Cutting Chai Company
Kabaddi, the Game of Partition is a period drama of the bloodiest time in Indian history. This play is a testament of the mass that was made to participate in one of the biggest political gambles ever. Sure; nations were divided, treaties were signed, tanks were loaded, and armies were deported. But what the people went through, is what has carried the legacy due. We have all read enough about Gandhi, Nehru, Jinnah, the commission, India and Pakistan; it is now time to relieve the madness as citizens of the country. The essence of the play thrives on just one question, did the independence really set us free?

6289
Write Club Saturday General #215
Sat Aug 24, 3:00 PM
Write Club Hyderabad
Write Club Hyderabad helps you pen your thoughts, spill your mind and finally make an appointment with the writer in your head. We conduct free, weekly events that foster writing. Our Meetups aim at helping writers reach their goals in a supportive, collaborative, social setting. Writing doesn't have to be all by oneself. We welcome anyone who writes, regardless of genre, language or age. We have members writing novels, short stories, poetry, screenplays, essays, school reports and more. What we do, basically: One of the members of Write Club (anyone with a participation count over 2 consecutive meetups) hosts a session. They bring forth a theme and writing exercises. We all then write to the host's prompts and guidelines for about an hour. Once we're done writing, we read out our write-ups (optional). We also exchange feedback and constructively critique each other's works. Entry is free, anyone with an interest in writing can walk in. Bring your writing devices and we're all set! We promise to provide you with good coffee and a super-creative conversation. We have Write Club sessions every Saturday afternoon – 3 to 6 PM
6345
Remembering Khayyam, Music Dir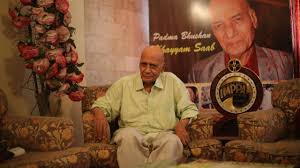 Sat Aug 24, 6:30 PM
Lamakaan
Khayyam, one of the doyens of Indian Music especially the Indian Film Music left this mortal world on 19th August 2019 leaving us in sorrow and grief. While his music created waves his simple personality was loved by all the filmdom people. Khayyam has left his treasure of music for the current and future generations to relish.

Lamakaan invites all to an evening of Remembering Khayyam and his rich legacy and contribution to the Indian Music followed by a screening of Umrao Jaan (1981).

Pre and post-screening discussion shall happen. The discussion is moderated by Chaya Mohan Babu, Publisher and an ardent fan of Khayyam's music and Indian Film Music in general.

About Khayyam: Mohammed Zahur "Khayyam" Hashmi, better known as Khayyam (18 February 1927 – 19 August 2019), was an Indian music director and background score composer whose career spanned six decades (1948–2007).

He won three Filmfare Awards for Best Music in 1977 for Kabhi Kabhie and 1982 for Umrao Jaan, and a lifetime achievement award in 2010. He was awarded the 2007 Sangeet Natak Akademi Award in Creative Music, by the Sangeet Natak Akademi, India's National Academy of Music, Dance and Theatre. He was awarded the third-highest civilian honour, Padma Bhushan by the Government of India for 2011.

ALL ARE WELCOME!


6206
Queer Up! - Gender: In Progress
Sun Aug 25, 2:00 PM
Tashi Choedup
How do you know what your gender is? How do you know what someone else's gender is? What markers of gender (clothing, mannerisms, body type etc.) make someone's gender "evident"? From the time that our biological sex is mistaken for our gender identity, we are told what our gender is. We are never asked. We rarely even ask ourselves. What is your gender and what does it mean to you? 

6338
Film - Judgement at Nuremberg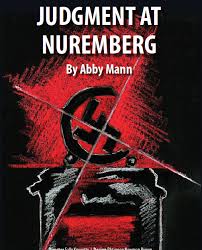 Sun Aug 25, 6:00 PM
Hyderabad Cinephiles
MOVIE SCREENING BY HYDERABAD CINEPHILES "JUDGEMENT AT NUREMBERG"

DESCRIPTION - After the end of World War II, the world gradually became aware of the full extent of the war crimes perpetrated by the Third Reich. In 1948, a series of trials were held in Nuremberg, Germany, by an international tribunal, headed by American legal and military officials, with the intent of bringing to justice those guilty of crimes against humanity. However, by that time most of the major figures of the Nazi regime were either dead or long missing, and in the resulting legal proceedings American judges often found themselves confronting the question of how much responsibility someone held who had "just followed orders." Judgment at Nuremberg is a dramatized version of the proceedings at one of these trials, in which Judge Dan Haywood (Spencer Tracy) is overseeing the trials of four German judges -- most notably Dr. Ernst Janning (Burt Lancaster) and Emil Hahn (Werner Klemperer) -- accused of knowingly sentencing innocent men to death in collusion with the Nazis. DATE AND TIME- 25th AUGUST @ 18:00 HRS VENUE - LAMAKAAN , BANJARA HILLS, HYDERABAD
6352
Kashmir: The Media Gap
Tue Aug 27, 5:00 PM
Lamakaan
With restricted news coming out of the valley, there's a serious information gap. The only source of information from the valley to the rest of world is through people who have lived through the lockdown.

In this discussion we shall explore how the truth is being concealed.

ALL ARE WELCOME!!!
6259
SAPACC Event on Climate Change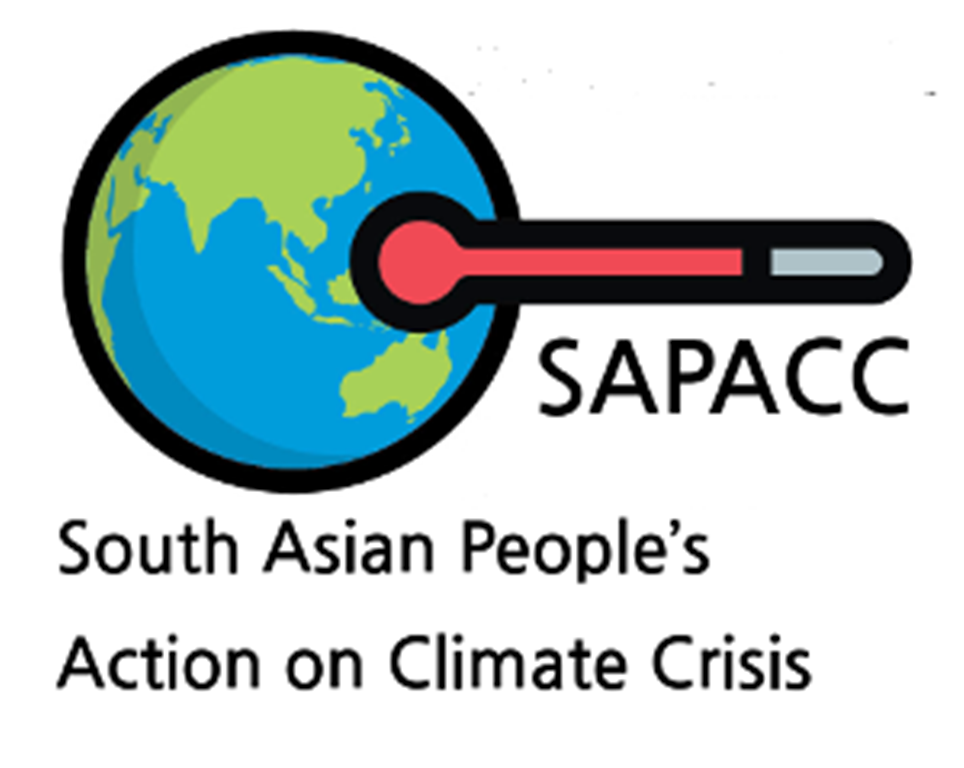 Tue Aug 27, 7:00 PM
Lamakaan & SAPACC
SAPACC and Lamakaan are organizing a Panel Discussion on

What Hyderabadis can do at a local level to tackle Climate Crisis


on: 7 pm, Tuesday, 27 August

at: LaMakaan, Off Road 1, Near GVK Mall, Banjara Hills. Hyderabad 50003

Location on googlemaps: https://www.google.com/maps/! 1s0x0:0x93eb3b59aaa17977!8m2!


Panel: Dhiraj C. kaveri/Abhinandan Malhotra, Subhash Reddy, Anant Maringanti, Rambabu Intipanta/Ramanjaneyulu, GV, Dr. Sai Bhaskar N. Reddy & Sreekumar N

Chair: T Vijayendra


Introduction:Climate change is here! Like most mega cities on our planet Hyderabad also contributes to Global warming in a significant ways, which as we all know is a principal cause of climate crisis. As a result, on one hand, it has become unsustainable in many ways, on the other, it is also our responsibility to do something about it. We will take up air (bicycles and cars), rainwater harvesting, waste management, kitchen gardens and energy as topics. The panelists will give a brief introduction to what can be done and more importantly answer the crucial question why it has not been done so far!

Keep the climate, change the economy - A Panel Discussion

ALL ARE WELCOME!!!
6266
Sci-Fi Month - Gattaca (1997)
Wed Aug 28, 7:00 PM
Cinephiles Film Club
A genetically inferior man assumes the identity of a superior one in order to pursue his lifelong dream of space travel.
Director: Andrew Niccol
Writer: Andrew Niccol
Stars: Ethan Hawke, Uma Thurman, Jude Law

Movies Intro : 7:00 PM
Movies Starts at 7:10 PM
Post-Screening Discussion - 15 mins
6346
Rohingya Refugees in Hyderabad
Thu Aug 29, 5:00 PM
Lamakaan An Open Cultural Space
Rohingya Refugees in Hyderabad

Expelled from Myanmar after a military genocide against the Rohingya Muslim minority, many thousands of Rohingyas fled to Bangladesh and India as stateless refugees. This panel will present a brief analysis of the Rohingya refugee crisis and the situation of Rohingya communities in Hyderabad. Drawing partly on their work in a refugee camp in the area of Balapur, panelists will discuss the refugees' socioeconomic conditions as well as relate these to the broader context of democracy and human rights.


Lateef Mohammed Khan is general secretary of Civil Liberties Monitoring Committee (CLMC). For twenty years he has been a leader in the promotion of human rights in India and equal legal protection for minorities.

Dr. Rafath Seema is the head of Nisa Research and Resource Centre for Women, which works under Civil Liberties Monitoring Committee. She has been working with refugees in Hyderabad, providing education and humanitarian relief.

Z. Fareen Parvez is Associate Professor of Sociology at the University of Massachusetts, USA. She has conducted long-term research among Muslim minorities in India and France.
6186
Book Launch & Discussion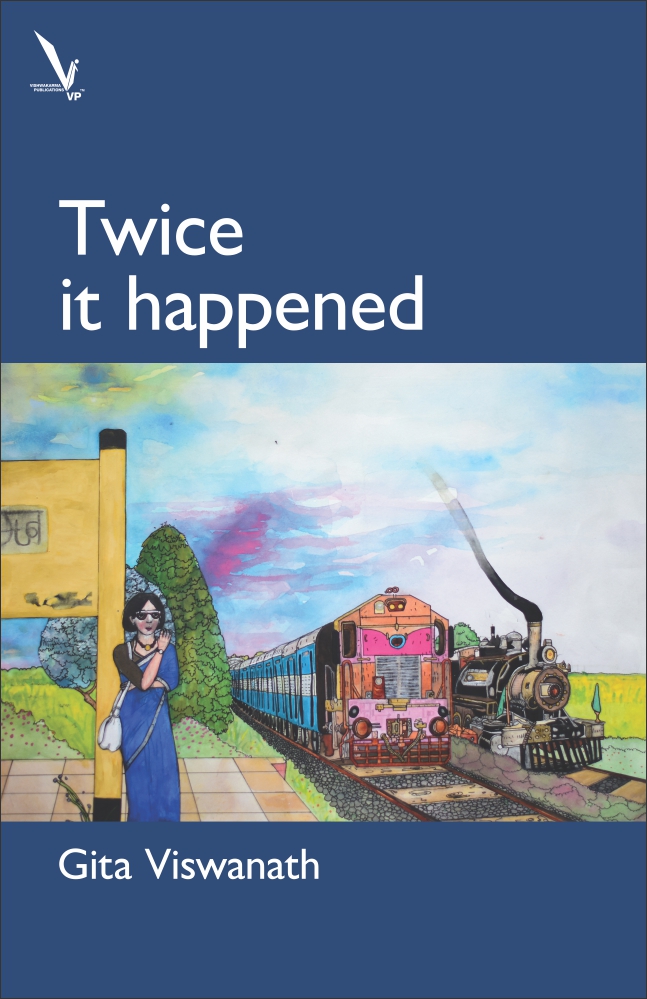 Fri Aug 30, 6:30 PM
Nikhila H.
This is a Book Launch, and Discussion with the author. The book is a novel in English titled "Twice it Happened" published by Vishwakarma Publications. The author is Gita Viswanath, who will be in conversation about her book with Nikhila H.

About the Novel: Twice it Happened narrates the prodigious stories of two women across generations who carry secrets. The circumstances in which they reveal them and the consequences of their revelation form the plot of this family chronicle. Spanning nearly a century, the story is narrated in different but interlinked sections of the novel. Through dreams, voices, and visitations on her thirteen-day journey to the other world, the spunky Nagamma, also an imaginative storyteller reveals her secret to her niece, Jyothi, who is a disenchanted, weed-smoking university professor. Jyothi's cousin, Chitra, the second protagonist, uses the epistolary mode to share her story of giving up her children; alongside her delightful yet subversive stories of life in an army cantonment.

These stories are interwoven with apocryphal stories of large, close-knit families, creating incredible narratives of women, relationships and desires. The novel is multi-layered in its complexity and draws upon the rich and diverse traditions of storytelling prevalent in our societies.

About the author: Gita Viswanath is the author of "The Nation in War: A study of Military Literature and Hindi War Cinema" as well as a children's book called Chidiya. She has taught English at school, college and university levels for 12 years.

About the discussant: Nikhila H. teaches in the Film Studies Department in The English and Foreign Languages University, Hyderabad. She writes and researches on gender issues and on cinema.
6325
An evening with Chekov
Fri Aug 30, 8:30 PM
Kedar Subhedar
Unmasked theatre productions present to you An Evening with Chekov. Two of Anton Chekov's plays will be staged at 8pm on the 30th of August.

The first play, named The Seduction revolves around three characters. The protagonist (played by Utkarsh Singh), a single man who has a very peculiar hobby of seducing other men's wives, reconnects with his old friend Nikhil (played by Nikhil Madhekar) and his lovely wife Reeta(played by Shilkha Agarwal) because he finds Reeta attractive. The play then shows the after effects of a neglected marriage. A genuine need for romance in reeta's life. Nikhil's hearfelt friendship towards Sumit and Sumit's flawless seduction. How the protagonist uses this to his advantage is how the rest of this story plays out.

The second play named the surgery is laugh riot. Its two main characters, a dentist and a pastor come face to face when the Pastor has a root canal infection. How the dentist persuades the God fearing man into get his tooth removed is what makes up the rest of this rib tickling comedy.
6333
Audacious August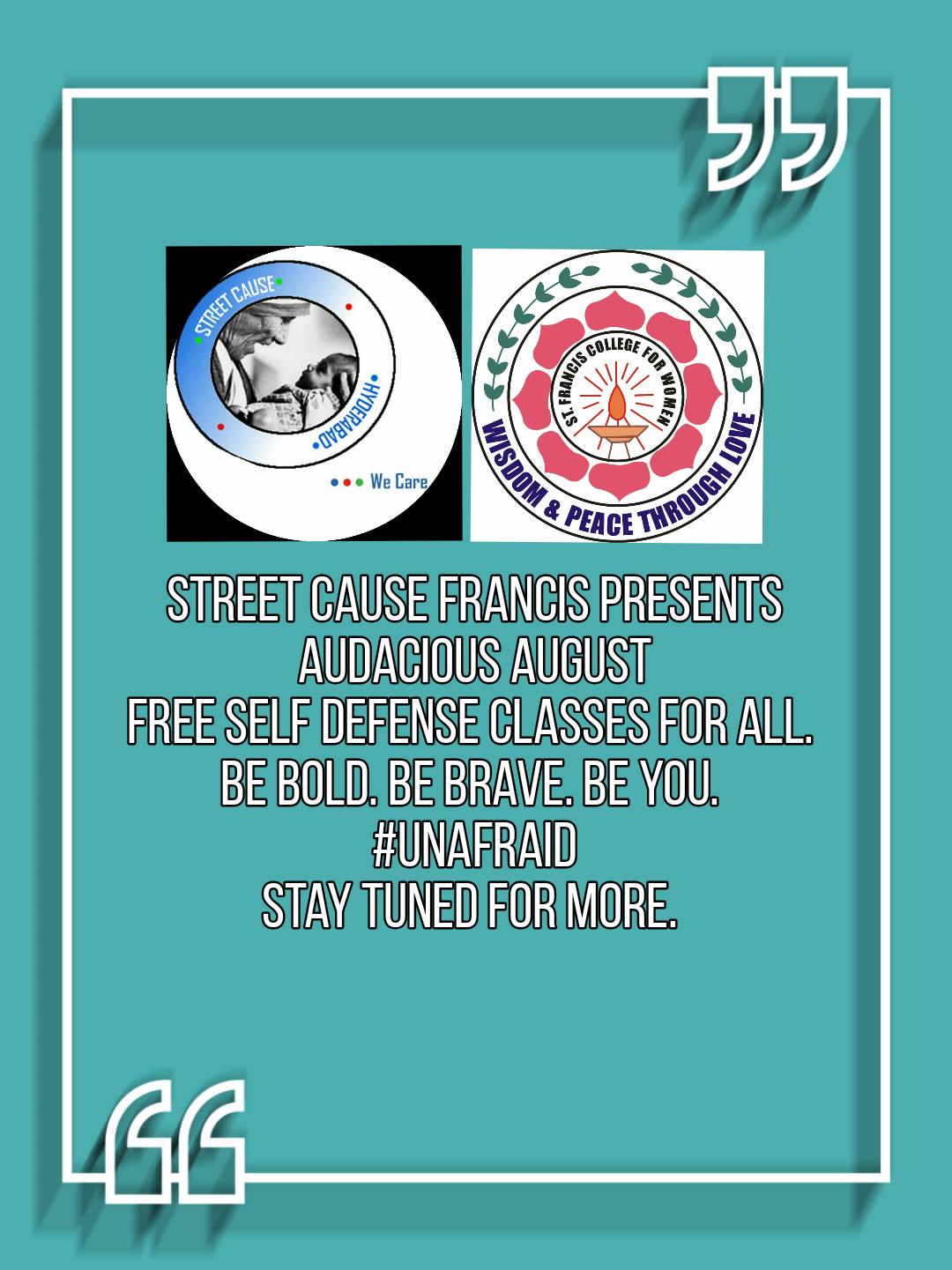 Sat Aug 31, 11:30 AM
Sameera
It's a workshop for self defense and women empowerment.
6290
Write Club Saturday General #216
Sat Aug 31, 3:00 PM
Write Club Hyderabad
Write Club Hyderabad helps you pen your thoughts, spill your mind and finally make an appointment with the writer in your head. We conduct free, weekly events that foster writing. Our Meetups aim at helping writers reach their goals in a supportive, collaborative, social setting. Writing doesn't have to be all by oneself. We welcome anyone who writes, regardless of genre, language or age. We have members writing novels, short stories, poetry, screenplays, essays, school reports and more. What we do, basically: One of the members of Write Club (anyone with a participation count over 2 consecutive meetups) hosts a session. They bring forth a theme and writing exercises. We all then write to the host's prompts and guidelines for about an hour. Once we're done writing, we read out our write-ups (optional). We also exchange feedback and constructively critique each other's works. Entry is free, anyone with an interest in writing can walk in. Bring your writing devices and we're all set! We promise to provide you with good coffee and a super-creative conversation. We have Write Club sessions every Saturday afternoon – 3 to 6 PM
6341
Economic crisis:effectsandcauses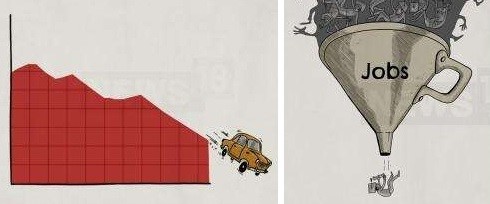 Sat Aug 31, 6:30 PM
In Defense of Reason
It has been around a decade since the global economy plunged into crisis. The intensity of this crisis has deepened and it has expanded in this duration. It has impacted the lives and livelihoods of billions of people around the world in an unprecedented manner.

Now, after a decade of recession, the global economic crisis is deepening even further and developing countries like India are moving towards acute recession. Everyday, we hear the news of huge layoffs in auto sector and service sector, debt crisis in banking sector, closing down of big corporate companies, privatization of PSU's, diminishing sales of capital as well as consumer goods etc. All these will result in huge job losses, growing social insecurity and further widening of income disparity. Even big business owners have started showing concern about this precarious condition of the economy.

Make no mistake, this crisis is not just the usual dip in the business cycle, rather it's systemic in nature. This crisis has yet again proved Karl Marx's prognosis that capitalism is inherently crisis ridden system.

In order to properly understand the nature of this crisis, 'In Defense of Reason' is organizing a talk and a discussion.

We invite one and all to this important discussion.

Entry is free !
6344
Ganesha knife Painting Workshop
Sun Sep 1, 11:30 AM
Pragya Mishra
This Ganesh Chaturthi let's make our own Ganesha and keep Him with us forever.
.
Painting knife is an artist's tool with a flexible steel blade used to apply paint to the canvas. It has a pointed tip, lowered or "cranked" like a trowel, suited for painting on canvas. The blade can be of different lengths and shapes : triangular, rectangular or more diamond like.
In this workshop, we are going to use that knife to make a Ganesha Painting on canvas.
.
Fees: 600/-
All the material will be provided.
.

For registration contact 8437185825
6207
Queer Representation in Media
Sun Sep 1, 2:00 PM
Tashi Choedup
How does the media engage with the question of queerness? How could one engage with some of the positions that it takes on queer issues and queer representations?

What has been the role of the Telugu regional media around queer issues? What happens to queer lives in the everyday news cycle? What kind of queer narratives get shaped and for what reasons?
6323
Radical Equality Book Launch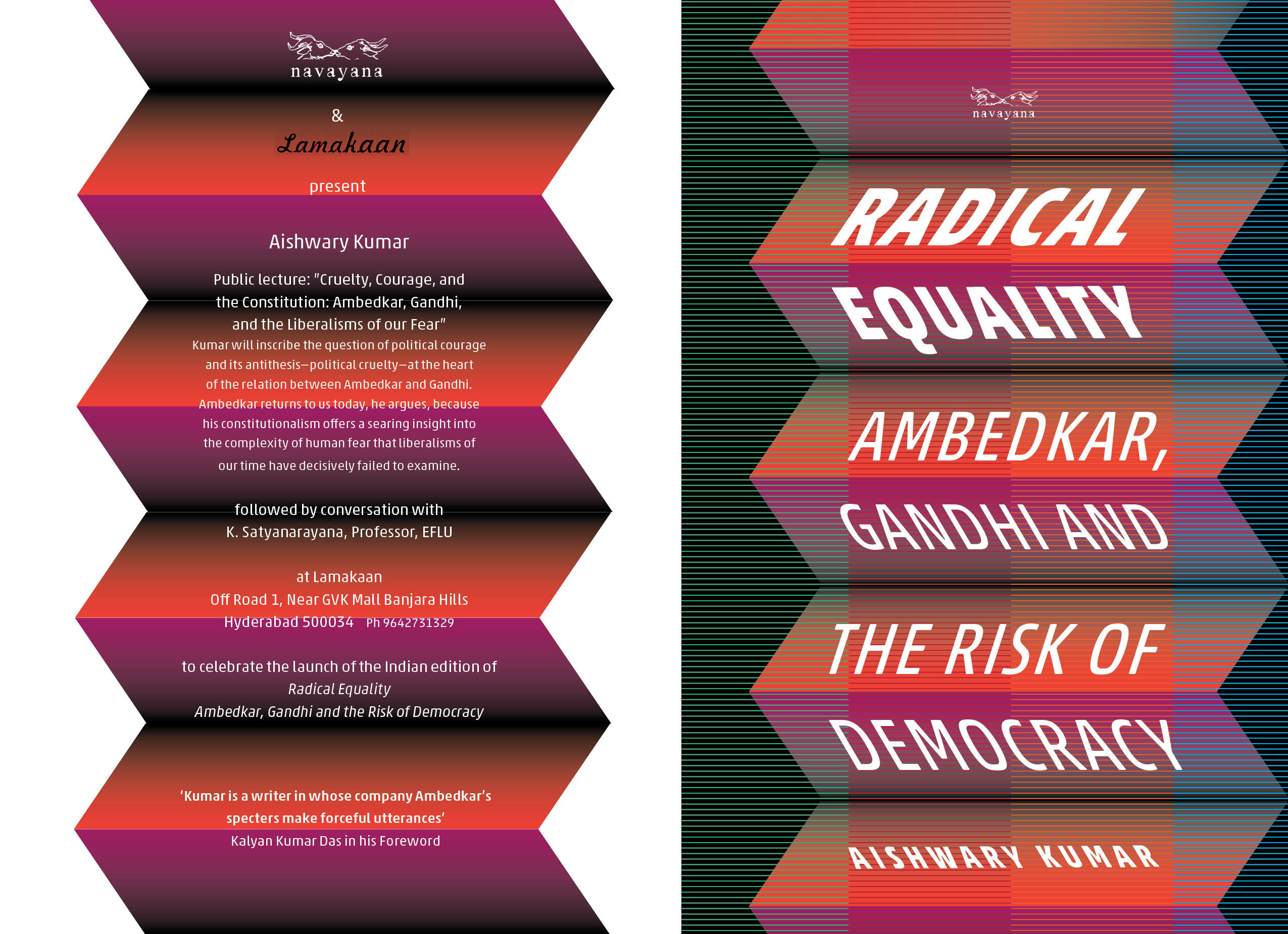 Tue Sep 3, 7:00 PM
Lamakaan & Navayana
Navayana and Lamakaan present


Aishwary Kumar's

Public lecture: "Cruelty, Courage, and the Constitution: Ambedkar, Gandhi, and the Liberalisms of our Fear"
Kumar will inscribe the question of political courage and its antithesis—political cruelty—at the heart of the relation between Ambedkar and Gandhi. Ambedkar returns to us today, he argues, because his constitutionalism offers a searing insight into the complexity of human fear that liberalisms of our time have decisively failed to examine.

followed by a conversation with
K. Satyanarayana, Professor, EFLU

at Lamakaan
Off-Road 1, Near GVK Mall Banjara Hills Hyderabad 500034 Ph 9642731329

to celebrate the launch of the Indian edition of
Radical Equality
Ambedkar, Gandhi and the Risk of Democracy


'Kumar is a writer in whose company Ambedkar's spectres make forceful utterances'—Kalyan Kumar Das in his Foreword
6267
No Man's Land
Wed Sep 4, 7:00 PM
Cinephiles Film Club
No Man's Land
Description : Two wounded soldiers - a Bosnian and a Serb, have a confrontation in a trench in the no man's land between their line, until the Bosnian finds himself on a bouncing mine and they call for truce.
Director : Danis Tranovic

Duration : 1 hour 38 min

Hosted by Cinephiles Film Club
6332
Rainwater Harvesting Mela
Sat Sep 7, 10:30 AM
Lamakaan & Hyderabad Urban Lab
The water need in the city is massive, and the city extracts groundwater for the same. With depleting groundwater levels and fluctuating climate conditions, the method, with hands on practical knowledge, promises to go a long way to help mitigate water shortage and maintain the water balance by collecting rainfall for future usage.

Hyderabad, with its topographic and underground water specifics, also requires to look at this method a lot more carefully. Applied questions such as how rainwater harvesting should be practiced or where is it viable to practice rainwater harvesting, are best answered by practitioners engaged with this technology through years of experience. The Rainwater Harvesting Mela intends to demonstrate locally developed means and processes of water harvesting that people in and around the city of Hyderabad have been using. Through this mela, we hope to disseminate reliable knowledge to capture rainwater that not only recharge local aquifers in an arid zone, but also reduce urban flooding by integrating rainwater harvesting as an integral means for Hyderabad's annual flood control.


Join us on 7th September 2019, Saturday, from 10.00 am onwards to know more about doable and practical rainwater harvesting from resource persons who will be available on site. Stay tuned to this page for more updates, from time to time !
6220
K Circle Non Competitive Quiz
Sat Sep 7, 4:00 PM
K Circle
Non competitive quiz required for every first Saturday of the month.
Capacity ~ 50 members

6380
Movie Screening - "Matewan"

Sat Sep 7, 7:30 PM
Hyderabad Cinephiles
Matewan is a movie directed by John Sayles, a story of striking West Virginia coal miners in the 1920's against the coal mining company. It captures the bloody working class battle in the town of Matewan and examines the labor unions from a critical perspective, shedding light on racial and cultural divides that hamper the working class movement. The film not only depicts the class struggles between the mine workers and the owners but also depicts various tactics used by the company to manipulate the workers and finally defeat them.
Entry is free!
Date and time - 7th Sept, 7.30pm at Lamakaan
6376
Work-Shop for Beginners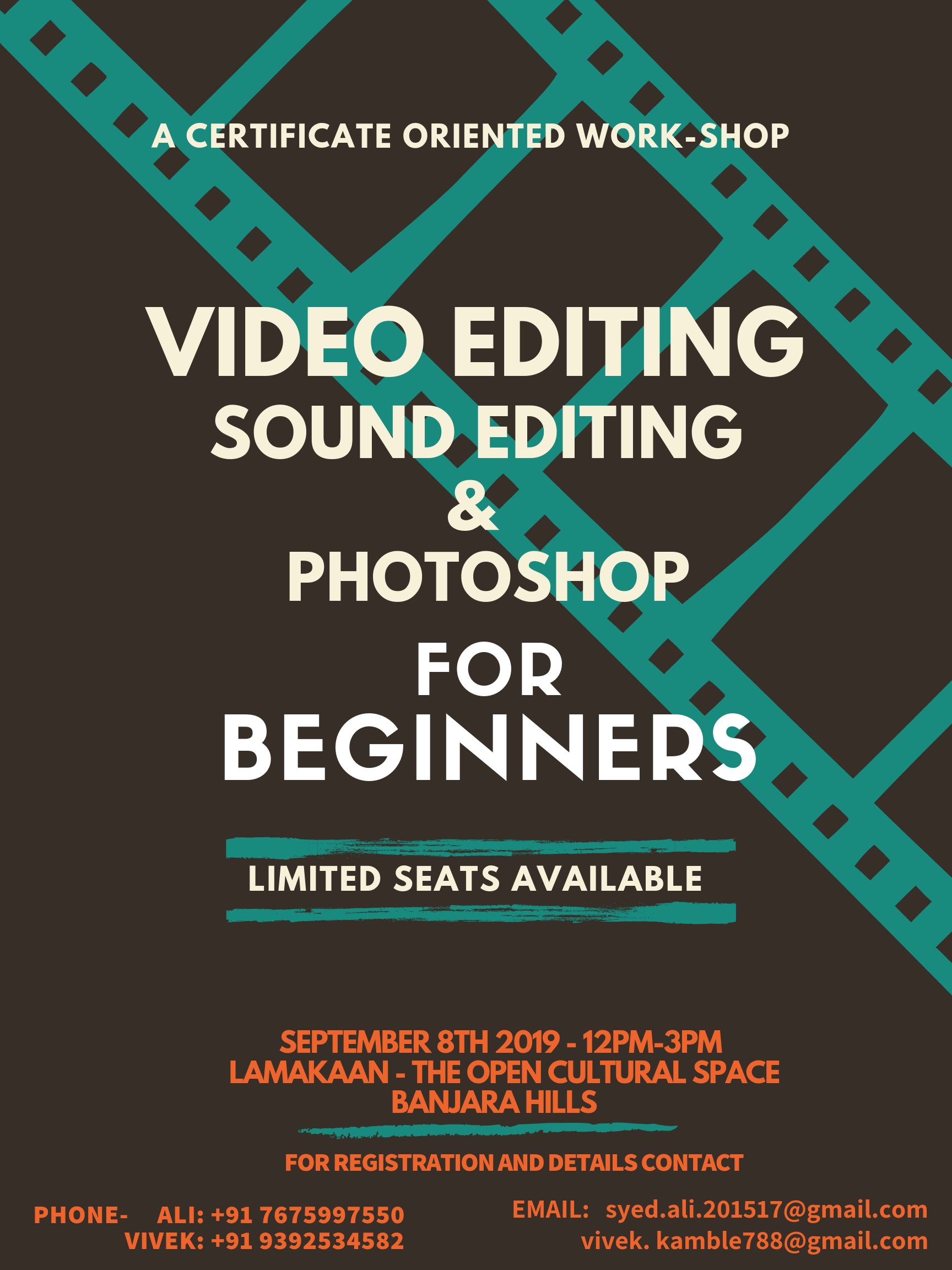 Sun Sep 8, 12:00 PM
Ali Razvi
The TEAM of HYDERABAD HASLEY ZARA is conducting a CERTIFICATE-ORIENTED VIDEO EDITING, SOUND EDITING and PHOTOSHOP Work-Shop specially for BEGINNERS.

In this Work-Shop we are going to teach you three different softwares each one for VIDEO-EDITING, SOUND-EDITING Software and PHOTOSHOP

Our VIDEO EDITING workshop is completely practical based, one-day training format designed to teach the BEGINNERS in a SIMPLEST way and at a reasonable price!

In SOUND EDITING we are going to explain youon how to use the SOUND EDITING SOFTWARE as well and overcome the MAJOR PROBLEMS which are faced during SOUND and AUDIO

In PHOTOSHOP we are going to teach you the basics of the software and the POSTER DESIGNING, Colour Grading and other various topics which will help you MAJORLY

After completing of the WORK-SHOP everyone who have attendes the course will be presented with a "CERTIFICATE" as well.


PRICE for Work-shop is
Early Bird: Rs.400
Spot Registration: Rs.500
*LIMITED SEATS AVILABLE*

For REGISTRATION and further details please do CONTACT
ALI : +91-7675997550 E-MAIL: syed.ali.201517@gmail.com
VIVEK: +91-9392534582 E-MAIL: vivek.kamble788@gmail.com
6370
Hip-Hop Performance by Webster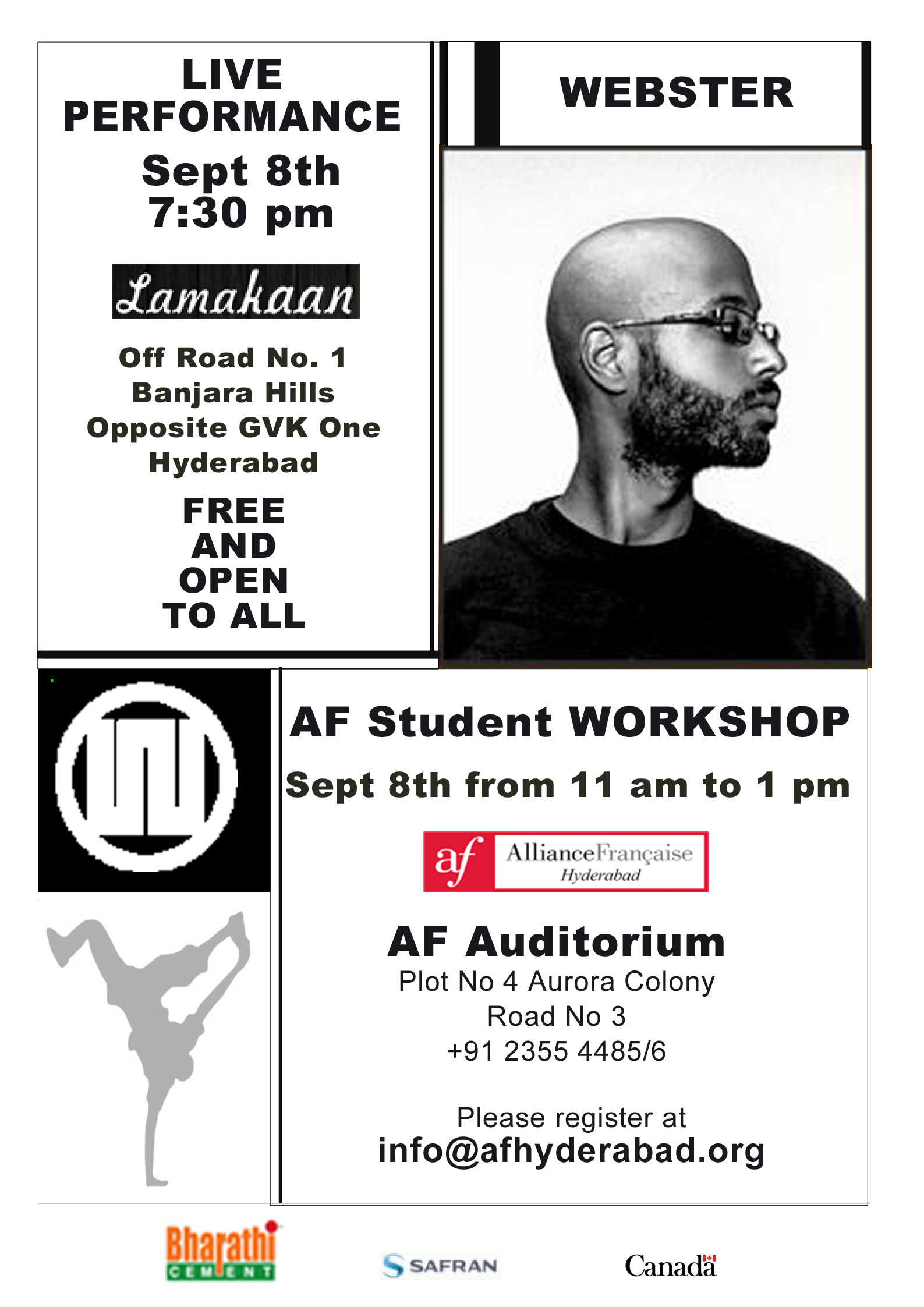 Sun Sep 8, 7:30 PM
Lamakaan and Alliance Francaise
Aly Ndiaye, a.k.a. Webster, was born and raised in Quebec city's Limoilou neighborhood. From a Senegalese father and a Quebecer mother, he has always been proud of his dual origin and sees himself as a SeneQueb. His passion for history drove him to study this field in college.

Hip-Hop militant and social activist, Webster is deeply implicated in his community. He regularly gives lecture about cultural diversity in Quebec and the influence of the hip-hop culture on the youth. His main subject is the history of black people and their enslavement in the province of Quebec since the start of the colony in the 17th century.

Since 2009, he has been travelling the globe to give workshops and teach students how to use creative writing in french; he performed in Asia, South America, Africa, Europe and North America.

Musically, he has been active since 1995; founder of the Limoilou Starz collective, he is a pioneer of the hip-hop culture in Quebec. The Old Man of the Mountain (as he is known) is reputed for his wise lyrics and the smartness of his music. His art is a tool that he has been sharpening for two decades.

6330
IS INDIA A SECULAR COUNTRY?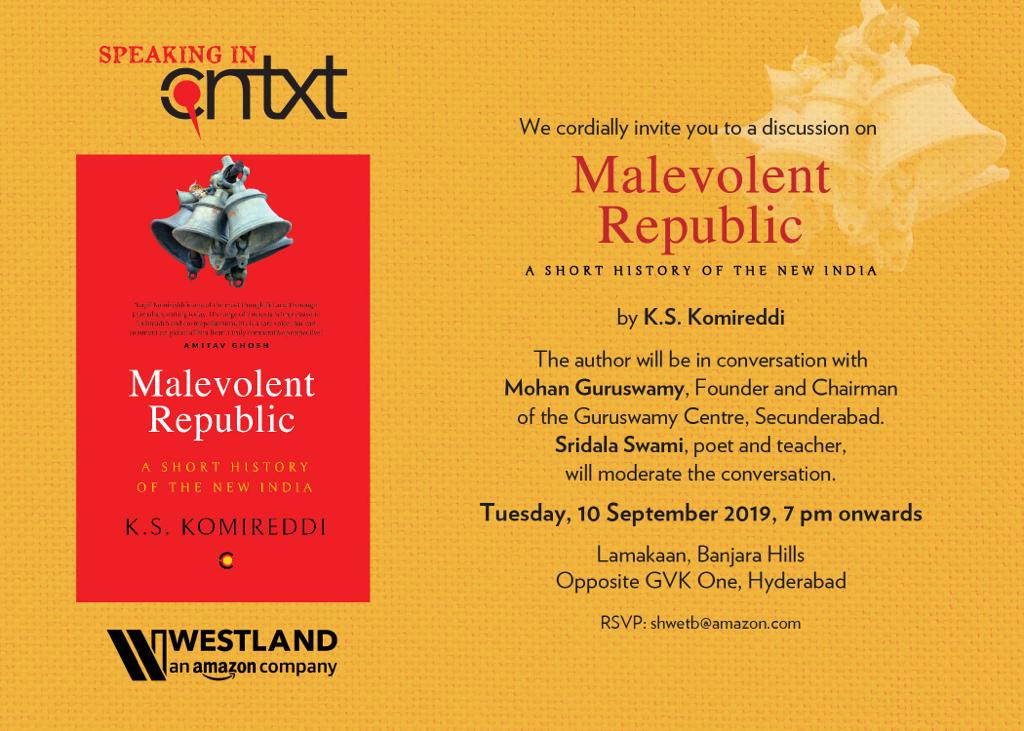 Tue Sep 10, 7:00 PM
K S Komireddi
IS INDIA A SECULAR COUNTRY?
Tue Sep 10, 7:00 PM

Journalist and commentator Kapil Komireddi will discuss his critically acclaimed new book, Malevolent Republic: A Short History of the New India, with Mohan Guruswamy and Sridala Swami.

Under Narendra Modi and the Bharatiya Janata Party, India has undergone the most total transformation since 1991. The 'invisible threads' Nehru said held together an improbable union divided by language, religion and ethnicity have snapped under the burden of Modi's Hindu-supremacist rule.

In this blistering critique of post-Independence India from Nehru to Modi, Komireddi charts the unsound course of Indian nationalism: its cowardly concessions to the Hindu right, convenient distortions of India's past and demeaning bribes to India's minorities. He argues that the missteps of the nation's founders, the mistakes of Nehru, the betrayals of his daughter and her sons, the anti-democratic fetish for technocracy inaugurated by Narasimha Rao and carried to the extremes by Manmohan Singh—all of them laid down the road on which Hindu nationalists rode to absolute power.

Hindu bigotry, ennobled under Modi as a healthy form of self-assertion, has reopened old fissures that threaten to devour India's hard-won unity. If secularists fail to reclaim the republic from Hindu nationalists, Komireddi argues, India will become Pakistan by another name. A short history of the modern Indian nation, Malevolent Republic is also an impassioned plea for India's reclamation.

Kapil will be joined in conversation with Mohan Guruswamy, founder and chairman of the Guruswamy Centre, and poet Sridala Swami.

Praise for Malevolent Republic:

'In precise and sharp language Malevolent Republic takes readers on a terrifying and yet illuminating journey through the rapidly transforming political, social and religious landscape of Modi's India.' — Times Literary Supplement
6386
Avakash Mahanta Memorial Service
Wed Sep 11, 5:00 PM
Krishna Bharani
Avakash Mahanta was an integral part of Lamakaan with a strong presence in the Hyderabad theater circuit. Unfortunately, he is no longer with us. We are holding a prayer meeting on 11th September between 6 PM - 7 PM for his friends and colleagues to remember him.
6268
Cinephiles movie screening
Wed Sep 11, 7:00 PM
Cinephiles Film Club
Lemon Tree Film screening

Lemon Tree is a 2008 Israeli drama film directed by Eran Riklis and co-directed by his cousin Ira Riklis. It stars Hiam Abbass, Ali Suliman, Danny Leshman, Rona Lipaz-Michael, Tarik Kopty, Amos Lavi, Lana Zreik and Amnon Wolf.The film describes the legal efforts of a Palestinian widow to stop the Israeli Defense Minister, her next door neighbor, from destroying the lemon trees in her family farm. At the same time, she develops a human bond with the minister's wife.

ALL ARE WELCOME!!!
6250
Ishq Mastana - by Vipul Rikhi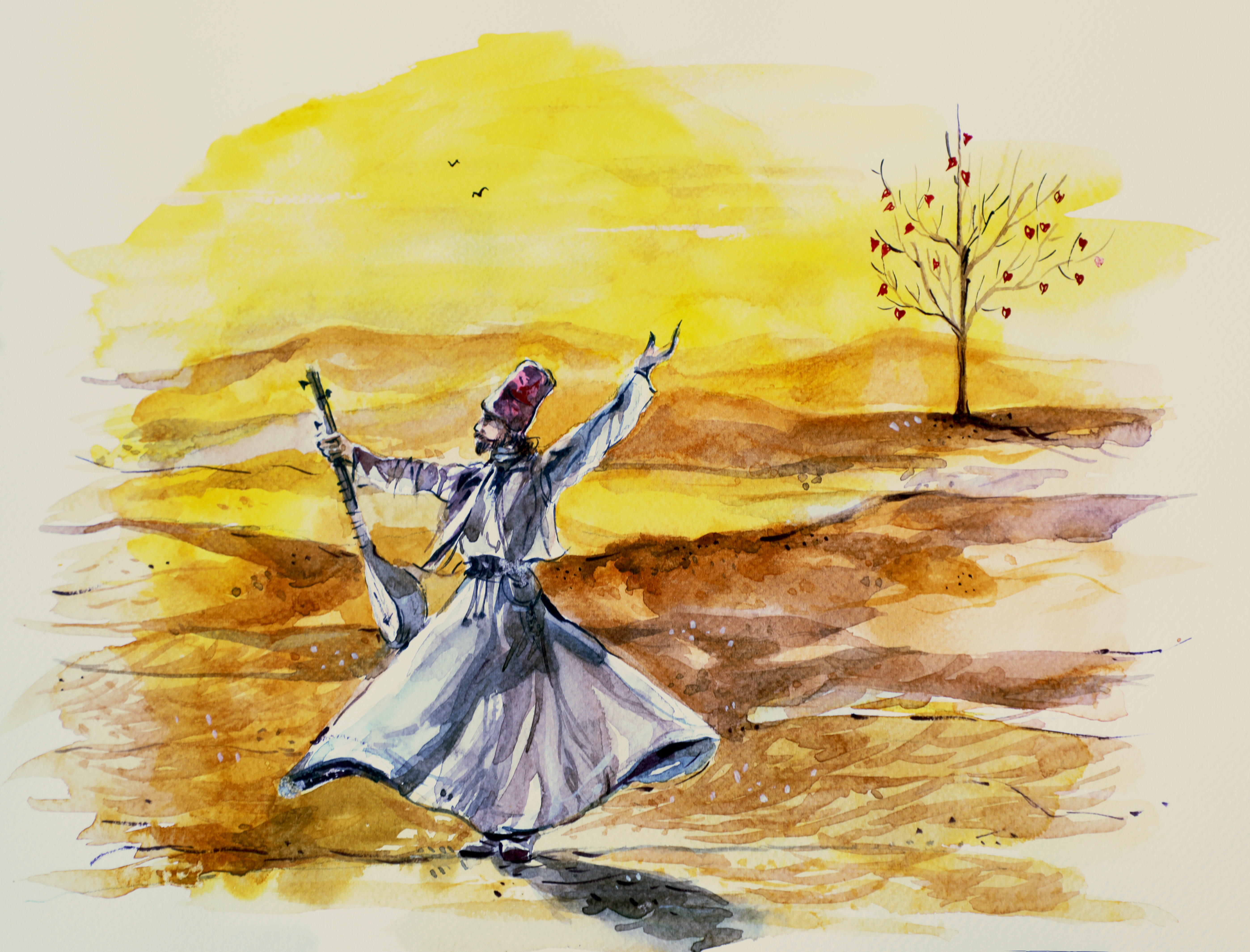 Fri Sep 13, 7:00 PM
Lamakaan & Vipul Rikhi
Ishq Mastana | Drunk on Love
Life and philosophy of Kabir, in story and song
by Vipul Rikhi

An introduction to the enigmatic, iconoclastic 15th century Bhakti-Sufi poet, Kabir, through storytelling, commentary, poetry and songs. The songs are in dialects of Hindi and the entire narration will be in English.

---

Why Kabir?
Over 500 years after his lifetime, Kabir still speaks to our times. In simple, direct words, he addresses complex emotional and cultural issues, with deep insight and clarity. But who was Kabir? How and where did he live? What made him who he was? Was he just one person or has he become many? Exploring legends around his life, his poetry, the depth of his thought, and the beauty of the music that has sprung up around him, we take a journey into the heart of this unique phenomenon.

Vipul Rikhi is a poet, translator and singer, and a co-creator of Ajab Shahar, a forthcoming digital archive that celebrates the oral traditions of Bhakti, Sufi and Baul music and poetry. His work with Kabir Project includes extensive writings and translations in the area of mystic poetry, including forthcoming books. He is also the author of a novel and collections of poetry and short stories.

http://ishqfakiri.com/
https://vipulrikhi.com/
6369
GYAN Workshop for NGO's
Sat Sep 14, 10:30 AM
iVolunteer Hyderabad
iVolunteer-Your Skills can change lives brings you a platform to do so through a highly customized training session on "Important aspects for writing effective concept note/ proposal" to be held on 14th September, 2019 from 10.00am to 03.00pm as part of #GYAN, our initiative where we have professionals volunteering to discuss the above situations faced by NGOs on various skills to help increase their efficiency



Note: Session will be conducted in Telugu and English

The resource person is Aruna Jyothi Patapati with
11+ years of grassroots experience in Women and Child Development. Apart from the full time journey in various roles: Program Development, execution, Fund Raising, Impact Assessment and Evaluation, Strategy Development and designing Volunteering programs, Aruna has been a Mentor and Consultant to non-profits working on Education and Livelihood development, especially in human-centered program development and design thinking. A Freedom Writers Fellow (USA) and served in post-conflict Uganda (Africa). Enthusiastic about cross cultural and interdisciplinary learning and collaborations and a continuous learner and backpacker to explore Best Practices in Love & Care across world.

linkedIn.com/in/arunajyothipatapati84/

These are the questions which will be discussed and addressed. The workshop is suitable for all NGO Leaders, Development Sector Professionals.

We are glad to share that all participants of GYAN will be eligible to receive a "Certificate of Completion/Participation" from iVolunteer. As always the session is for a maximum of 10 participants, with a maximum of 2 per NGO.

Cheque of Rs 1100/- (per participant) favoring ChangeX Services Private Limited to iVolunteer with a cover note indicating your interest and the participant details in the above mentioned format. Rest details will be shared post you confirmation.

Look forward to your participation. For more information,

please call Ernest Matta at 9849692140 or write to hyderabad@iVolunteer.in


6368
Tibet: Frontiers of Resistance
Sat Sep 14, 3:00 PM
Bliss Binoy Vallabhassery
Rinzin Choedon (National Director, Students for a Free Tibet- India) and Tenzin Phakdon (Grassroots Director, SFT India) will speak on the ongoing crackdown in Tibet and the new forms of resistance Tibetans have employed in their struggle for freedom.
6397
Write Club Saturday General #214
Sat Sep 14, 3:00 PM
Write Club Hyderabad
Write Club Hyderabad helps you pen your thoughts, spill your mind and finally make an appointment with the writer in your head. We conduct free, weekly events that foster writing. Our Meetups aim at helping writers reach their goals in a supportive, collaborative, social setting. Writing doesn't have to be all by oneself. We welcome anyone who writes, regardless of genre, language or age. We have members writing novels, short stories, poetry, screenplays, essays, school reports and more. What we do, basically: One of the members of Write Club (anyone with a participation count over 2 consecutive meetups) hosts a session. They bring forth a theme and writing exercises. We all then write to the host's prompts and guidelines for about an hour. Once we're done writing, we read out our write-ups (optional). We also exchange feedback and constructively critique each other's works. Entry is free, anyone with an interest in writing can walk in. Bring your writing devices and we're all set! We promise to provide you with good coffee and a super-creative conversation. We have Write Club sessions every Saturday afternoon – 3 to 6 PM
6390
Book launch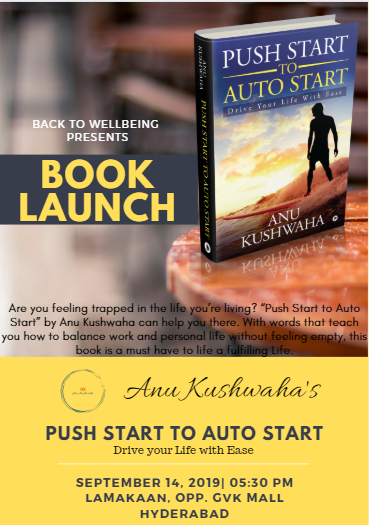 Sat Sep 14, 5:00 PM
Anu Kushwaha
"Push Start to Auto Start" by Anu Kushwaha is a helping hand for those of us who feel lost, confused like we're just drifting through life with exhaustion seeping into our bones as we keep pushing our lives forward just to succeed.

If you are feeling trapped in the life you're living, "Push Start to Auto Start" by Anu Kushwaha can help you there. With words that teach you how to balance work and personal life without feeling empty, this book is a must-have for those who can relate.

Meet her at Book Launch event on 14 September 2019 @ 17:30 hrs at Lamakaan and see a new perspective of life.

You can read her articles on www.backtowellbeing.org
E-book and paperback of #pushstarttoautostart is also available on popular online platforms.
6387
Reflections- Indian Constitution
Sat Sep 14, 7:30 PM
Lamakaan An Open Cultural Space
Reflections on the Indian Constitution and Judiciary in the Current Moment

The transfer of judges their appointments and related challenges throw long shadows on the efficacy and credibility of the system. Is the last sentinel suffering an credibility crisis or is it being attacked?

Speaker: L Ravichander is a Senior Lawyer practising at Hyderabad High Court.
6395
Vaishali Bisht's Weekend Theatre
Sun Sep 15, 12:00 PM
Vaishali Bisht Theatre Workshop for Children
This is the culmination of the Weekend Theatre Workshop for Children where we invite the parents of the children who have participated in the workshop, in order to view the children's presentations and speak with the workshop facilitator regarding their child
6282
RTI- Current challenges
Sun Sep 15, 5:00 PM
Tejaswini Madabhushi
In the context of amendments to Right to information act, we want to create awareness on Right to information and talk about online platforms that enable all citizens to use Right to Information easily and for free.
6109
Gadha Kahini - Tale of a donkey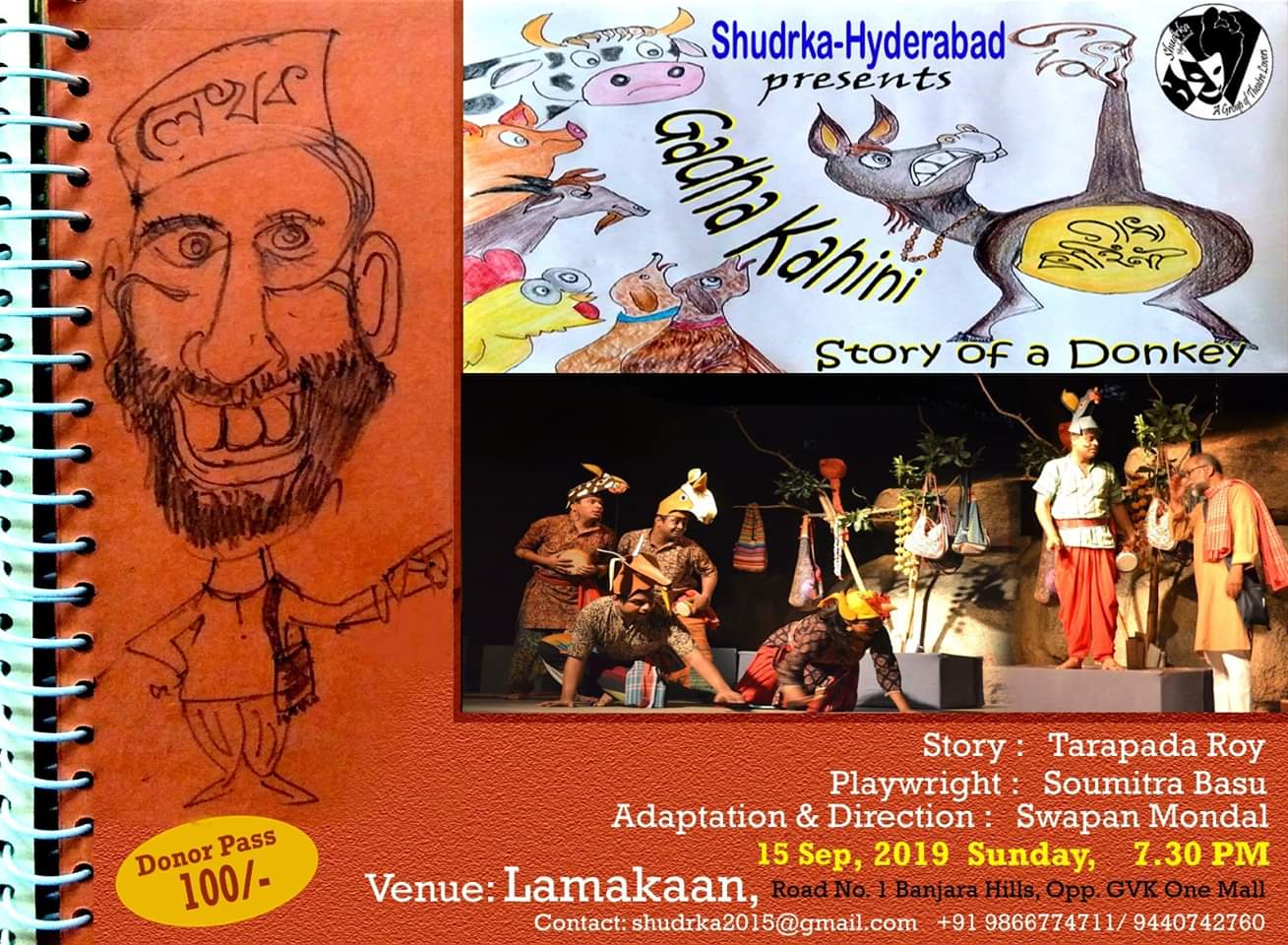 Sun Sep 15, 7:00 PM
Shudrka Hyderabad
Based on Tarapada Roy's story, dramatised by Soumitra Basu, Gadha Kahini is a political satire that portrays through a story telling style on how some of the decision making authorities are being driven by their whims and fancies and how it all turns out to be a comedy of errors
6228
Remembering Operation Polo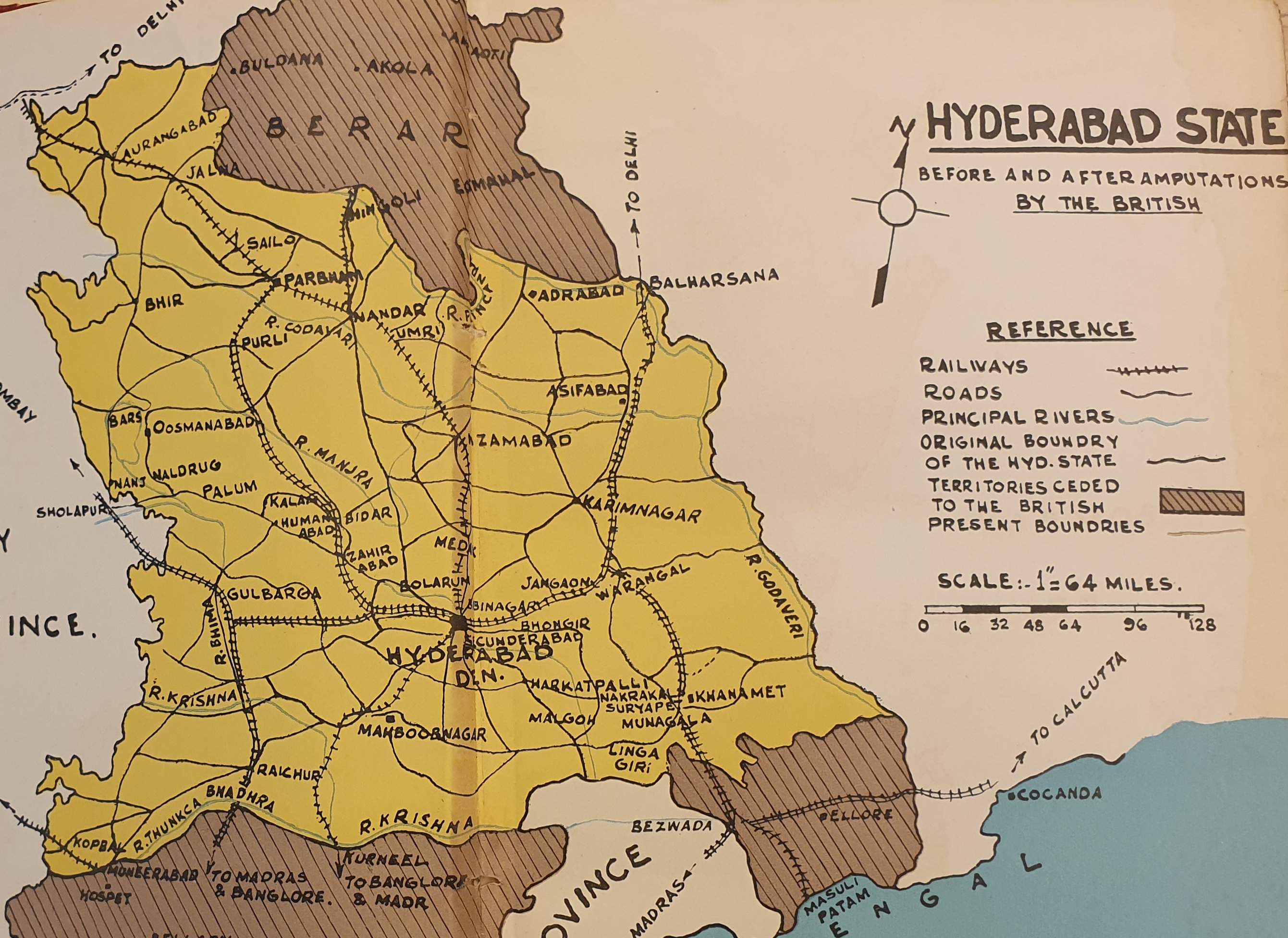 Tue Sep 17, 7:30 PM
Lamakaan An Open Cultural Space
17th September this year marks 71 years since the erstwhile state of Hyderabad was annexed to India, in the year 1948, more than a year after India got its independence. While what transpired then has been largely forgotten and left out of our history books, a very important thing within that subject is the Telangana Armed Struggle (1946-51).

While the last Nizam, Mir Osman Ali Khan, was busy trying to do his best to stay independent and was negotiating with the Indian government, the communists in Telangana had given a call to arms against oppressive landlords in 1946 itself, two whole years before Operation Polo. The movement is one of the nest successful peasant revolutions that took place in independent India.

The state of Hyderabad, which comprised Telangana and parts of present day Maharashtra and Karnataka, was in flux, but what transpired between 1946 and 1951 in the region of Telangana was very different from the rest of the state. The Razakaars, a militia led by Qasim Razvi, which caused a lot of disturbances in the name of keeping Hyderabad independent, was met with resistance by the communists.

A very important aspect today, especially given that the issue of 'liberation day' (of Hyderabad from the Nizam) is being talked about, is that the anti-feudal struggle in Telangana was against oppressive landlords (working for the Nizam), who mostly perpetrated caste violence in the rural areas of the state. Chakali Ailamma, P. Sundarayya, Makhdoom Mohiuddin, Ravi Nayaran Reddy and many others fought for freedom to set poor peasants free from oppression.

Moreover, it is well-recorded in the Sunderlal Committee report about the atrocities perpetrated against Muslims (between 27000 to 40000 reportedly killed) in the aftermath of Operation polo (in the districts of Maharashtra and Karnataka mainly). However, in Telangana, so such thing took place, in spite of the communally charged atmosphere, thanks to the communist leadership which essentially controlled the rural areas of Telangana.

Today, very few people from that generation live; who can tells us what they witnessed during that period of flux in Telangana. Among them are Gabbete Raghu Pal (78), a member of the Communist party of India-Marxist and Kandimalla Prathap Reddy (85), a member of the Communist Party of India, who were just children when Operation Polo took place, but have several stories and eyewitness accounts that will help us understand both Operation Polo and the Telangana Armed Struggle.

So come join us for a talk and discussion with the speakers, who will help us understand our state's history in a more personal manner and also throw some light on what transpired during those days of strife.

About the speakers:

Mr. Raghu Pal's association with the Telangana Armed Struggle started as child, when he witnessed many incidents in his village in Jangaon Taluka (district today). His father, G. Gopal Reddy, was in fact a senior CPI leader, who was also arrested and jailed for his participation in the armed struggle (CPI was banned even after independence, the party called-off the rebellion in 1951). He has been with the CPM since his youth.

Kandimalla Pratap Reddy is a renowned author and public speaker on the Telangana peasant armed uprising. His association with the communist movement started when he was a teenager as a courier responsible for passing messages between the leaders and comrades underground and aiding them with food and transport. His well known books include "Veera Telangana Sayudha Samaram", "Ralina Ratnalu", "Gadar Viplavam", "Bandook (novel)" etc to name a few. In "Ralina Ratnalu" he captures the stories of hundreds of commoners who lay their lives down for the cause of the peasant uprising from every district of Telangana.

ALL ARE INVITED.

Organizer:
The event is being hosted by Yunus Lasania, a city based journalist and Moses Tulasi, Documentary filmmaker who are currently interviewing eyewitnesses of Operation Polo and Telangana Armed Struggle.
6269
El Norte (1983) Movie screening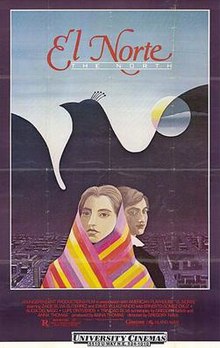 Wed Sep 18, 7:00 PM
Cinephiles Film Club
When a group of Mayan Indians decides to organize a labor union to improve conditions in their village, their community is violently destroyed by the Guatemalan army. Teenage siblings, Rosa (Zaide Silvia Gutiérrez) and Enrique (David Villalpando) manage to escape the massacre and decide to start a new life in El Norte -- the USA. The two trek through Mexico, meeting a variety of characters and facing trials and tribulations on their journey toward lives as illegal immigrants in Los Angeles.
6410
Relevance of Periyar today
Thu Sep 19, 5:00 PM
Lamakaan An Open Cultural Space
Relevance of Periyar today : Contradictions of caste, language and religion

Thanthai Periyar lived in a time when the country was witnessing a turmoil in its social and political landscape. He stood against the current questioning the idea of nation, social constructs of caste, religion and the dominant culture. He was not an armchair revolutionary, nor a seasonal activist but a speaker who spoke his mind wherever he was. The talk will revolve around the contemporary relevance of Periyar at a time the nation is divided drastically on the lines of caste, religion and other identities and rise in inequality.

Thirumurugan Gandhi is an human rights activist and a geopolitical commentator. He spoke in the UN for the past three years advocating the rights of people facing war crimes against imperial regimes. He is also the founder of May 17 Movement and raised his voice against the Indian government's atrocities against Tamils.
6381
ART a play by Yasmina Reza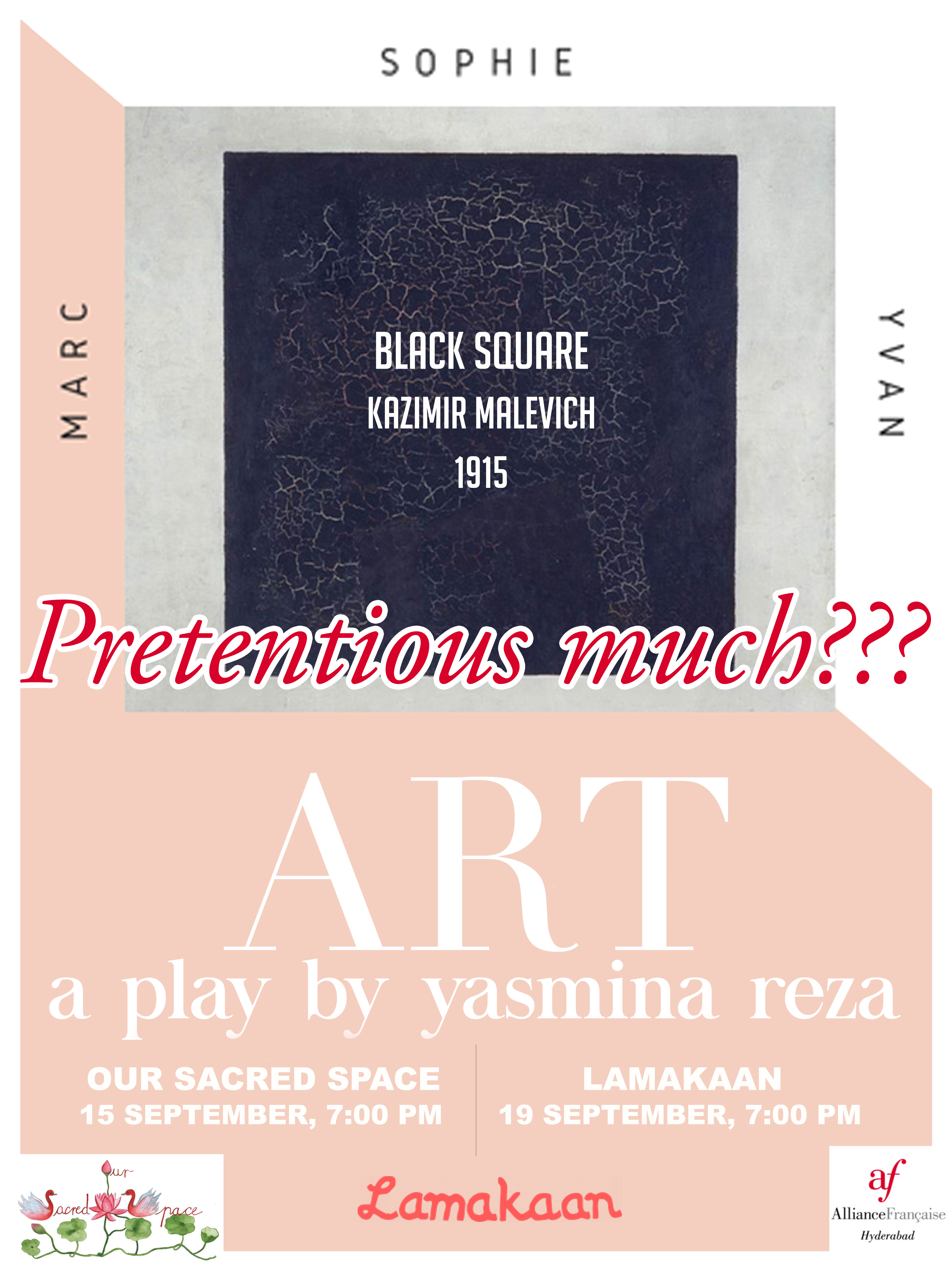 Thu Sep 19, 8:00 PM
Lamakaan An Open Cultural Space
This hilarious play, staged is the age-old argument on MODERN ART and its creativity(or the lack of it). LOTS OF SWEARING AND FIST FIGHTS IN STORE!! On a serious note, the ingenious french playwright YASMINA REZA has gained immense popularity with this play being translated into over 30 languages. 

A friend buys a strange piece of modern art, another friend loses his mind and another gets punched in the face. Was the painting worth its 200 million euros?? Did Yvan deserve the punch to his face. Did Marc come to terms with modern art? Did Sophie retain her dignity among her philistine friends?? 




Duration - 90 minutes
Time - 8:00 pm
Actors - Srinivas (as Marc)
Aarthy (as Sophie)
Purushothama (as Yvan)
Music - Joshua
Lights - Sudarshan