«Prev
From Nov 27, '20 to Dec 27, '20
Next»
6984
Condolence for Mujtaba Hussain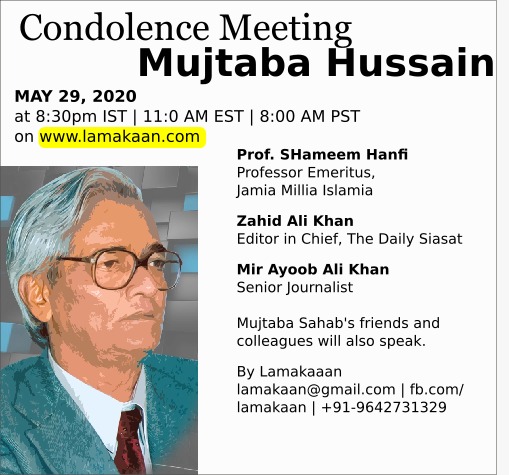 Fri May 29, 8:30 PM
Lamakaan
Condolence meeting for Mujtaba Hussain


Mujtaba Hussain, the noted Urdu Humourist, passed away on May 27, 2020. A towering figure of Urdu Humour, he wrote scathingly on Indian politics and society. In this online eulogy to him, his friends, colleagues, writers, will gather to talk and celebrate his work.



Among the speakers will be Dr. Shameem Hanfi (Jamia Millia Islamia), Zahid Ali Khan(Editor in Chief of the Daily Siasat), Mir Ayoob Ali Khan (Senior Journalist).
You can listen to Mutaba Hussain reading his own work at https://www.youtube.com/watch?v=4RdZ3X8q2qM&t=6m30


This is an ONLINE event.

Use one of the following links to join/watch the meeting.

Google Meet:
https://meet.google.com/

Watch on Facebook Live Streaming
https://www.facebook.com/lamakaan

Watch on YouTube Live Streaming:
https://www.youtube.com/channel/UCcJ3vKfic8KA5zBoKzz4B_Q


All are welcome!!!