«Prev
From Nov 27, '20 to Dec 27, '20
Next»
6731
All The Wrong Turns -Book Launch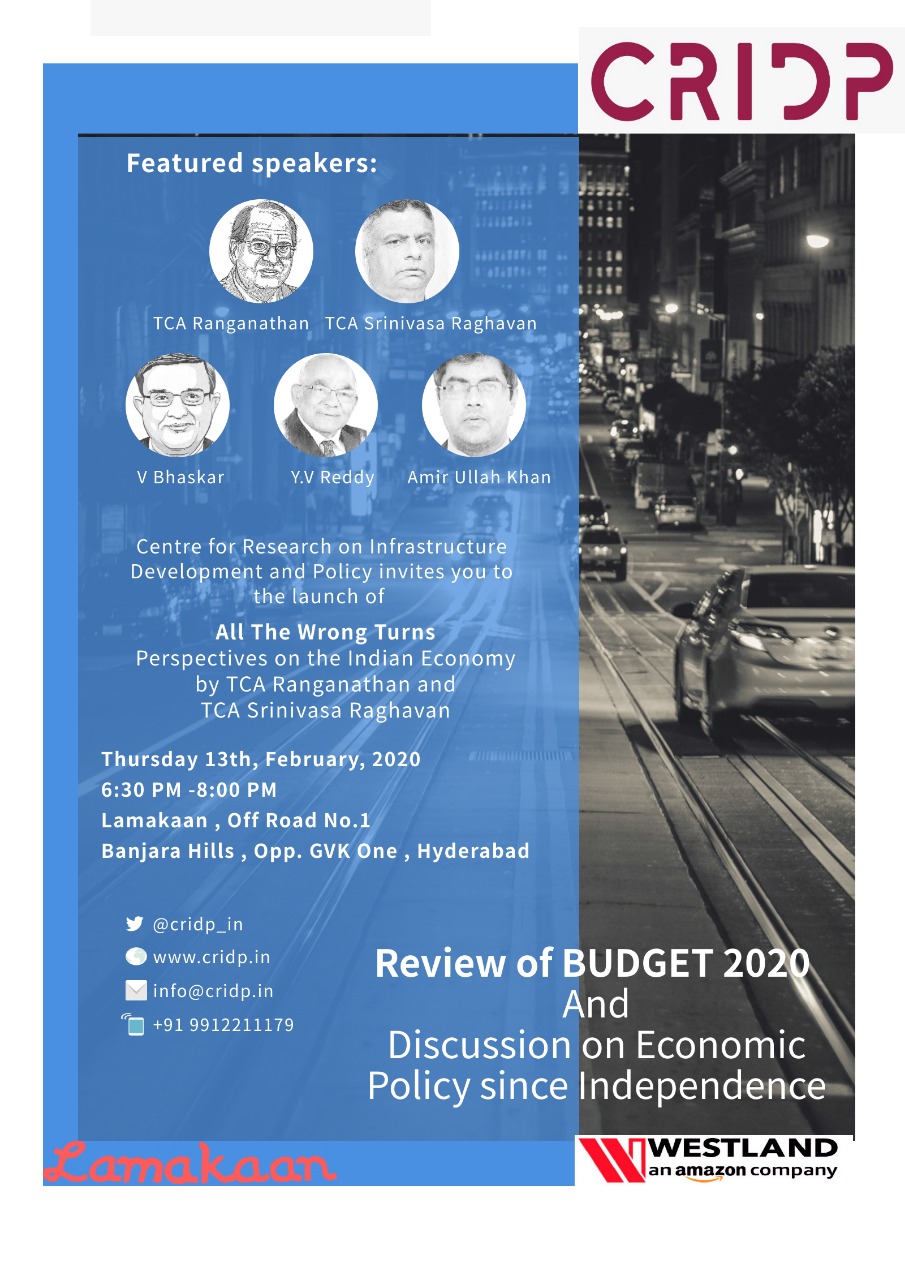 Thu Feb 13, 6:30 PM
Lamakaan An Open Cultural Space
All The Wrong Turns -Book Launch and Discussion.

Coming on the heels of one of the most critical budgets to be presented and in a situation where the Indian economy is fighting steep decline, this event brings together some of our best minds.

The panel will discuss the contours of economic policy that the authors analyse in detail in one of the most exciting books to come out recently.

Y V Reddy was Governor of the RBI and successfully ran it during it's most difficult days. He also Chaired the 14th Finance Comission.

V Bhaskar retired as Special Chief Secretary of Andhra Pradesh. He also served as Chairperson of the AP Electricity Regulatory Comission and as Joint Secretary to the 13th Finance Comission.

Amir Ullah Khan is Professor of Economics at MCRHRDI and visiting Professor at NALSAR, TISS and ISB. He is a former head of strategic planning at the Bill and Melinda Gates Foundation and was earlier Executive Director and Editor at Encyclopedia Britannica.

T. C. A. RANGANATHAN was a career banker for close to four decades and retired as the Chairman of the Export Import Bank of India (Exim Bank). In 2006, he set up SBI Shanghai, the first Indian bank in China. Africa. He was later the Managing Director of State Bank of Bikaner and Jaipur, an associate of the SBI, which was his last assignment within the SBI system prior to appointment as Chairman of Export Import Bank of India in April 2010.

T.C.A. SRINIVASA RAGHAVAN began his career in 1975 as the Economics Editor at Macmillan India. Over the next thirty-three years he worked at the Free Press Journal, Eastern Economist, Financial Express, Indian Express, The Economic Times, Business Standard and The Hindu Business Line. He is currently a columnist and writes on economics, politics and books.

Free for all.